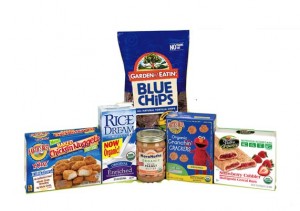 Monday MIRs are brought to you by Christina from Northern Cheapskate. Her passion is helping people take control of their finances through coupon-clipping, freebie-finding and frugal living strategies.
ConAgra. Purchase $10 in participating ConAgra products and receive $25 in coupons by mail. This is the new Back-to-School offer from ConAgra.  Purchases must be made between 7/07 and 10/13.  There is also a similar summer rebate that ends 8/15.
Hain Celestial Group. Get a FREE $5 Sports Authority gift card by mail when you purchase $10 worth of any combination of Hain Celestial products including Garden of Eatin' Snacks, Rice Dream, Soy Dream and Almond Dream Beverages, Health Valley Organic Cereals and Snack Bars, MaraNatha Nut Butters, Earth's Best Sesame Street, Earth's Best Tots and Earth's Best Kidz Products and Frozen Foods before 9/30.  You could also receive a $10 Sports Authority gift card when you purchase $20 worth of these products.  Offer is not valid on Earth's Best jarred or other infant foods.
Dickies. Purchase Dickies Jeans or Duck Jeans before 9/30 and get $5 back by mail for each pair purchased.
ACT Rinse/Spongebob DVDs. Receive $4 via mail-in rebate when you purchase one qualifying SpongeBob SquarePants DVD and one bottle of ACT Rinse (16.9 oz.) featuring SpongeBob SquarePants between 3/1/10 and 03/31/11.  Qualifying DVDs include SpongeBob SquarePants: SpongeBob's Last Stand, SpongeBob SquarePants: Triton's Revenge, and SpongeBob SquarePants: Legends of Bikini Bottom.
Sun-Maid/Shrek. Get $3 back by mail when you buy Shrek, Shrek 2 or Shrek 3 on DVD or Blu-ray and any Sun-Maid product.  Offer ends 3/31/11.
Activia. Money-back Guarantee: Try Activia yogurt and if you don't like it, it's free (up to $6).  Offer ends 9/30. There is a limit of one per household, but if you already participated in the Activia 14-Day Challenge (which runs from 4/15 – 8/31) you are still eligible to participate in this Activia Taste Test, as they are two separate promotions.
Tampax/Always. Purchase specially-marked packages of Tampax Pearl or Always Ultra at Walmart and you can redeem a code online for a FREE movie ticket.  Offer ends 10/31 while supplies last.
If you're new to mail-in-rebates, be sure to read Northern Cheapskate's Simple Tips for Getting Rebates.
See the previous MIR roundups for more offers that are still available!