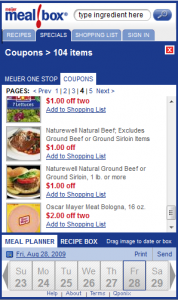 Here's a great find that my wonderful reader Angel just shared!
The Meijer Mealbox currently has the following coupons good for Naturewell beef:
I found these great coupons on Page 4 of the widget. I'm not sure what the price on Naturewell beef and ground beef is right now, but it seems like you should be able to get a really good deal by buying in 1-lb. increments and using the coupon.
If you find a great deal with these, please let me know!