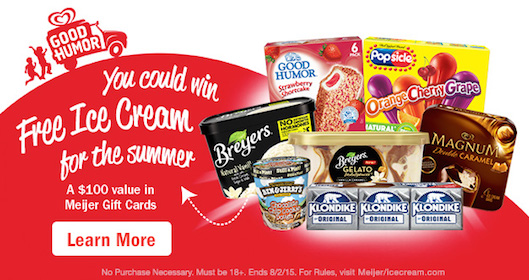 How will you treat yourself as temperatures soar in July? Meijer has you covered with a wide variety of ice cream products to satisfy not only YOUR tastes, but all the different tastes in your family, as well! And let me tell you, that's no easy feat in my household…
Whether you crave a chocolaty caramel indulgence, while others hunger for a refreshing strawberry fruit bar, or your family prefers to go the plain vanilla route with plenty of toppings to dress it up, Meijer and Unilever brand ice creams products have you covered all summer long!
And even better, Meijer and Unilever have teamed up to present the Ice Cream Summer Sweepstakes with $20,000 in Meijer gift cards up for grabs — WOW!!!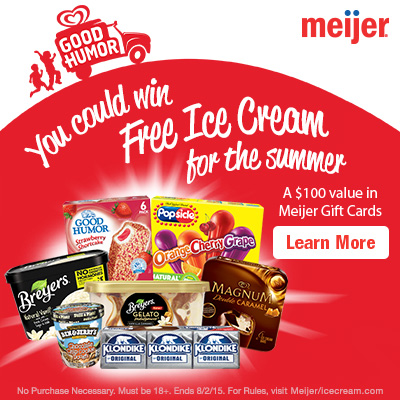 Win a $100 Meijer gift card!
That's right, you can win FREE ice cream for the summer (a $100 value in Meijer gift cards) with easy text message entry! Simply text code ICECREAM to 634537 to enter for a chance to win. Limit one (1) text entry per person per day. Complete details here: https://bit.ly/1LOzbHH
Participating brands: Breyers, Breyers Gelato, Magnum, Good Humor, Popsicle, Ben & Jerry's and Klondike.
Prize: Free Ice Cream for the summer, a $100 value in Meijer gift cards.
Odds of winning: Each week Meijer will randomly select 50 winners.
Enter through: 11:59pm ET on 8/1/15.
What's your favorite ice cream indulgence? Anything with chocolate is tops in my book!
Disclosure: Sponsored by Lunchbox, all opinions are my own.