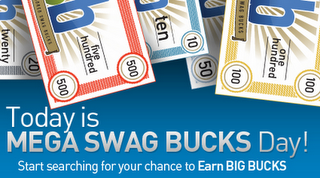 It's Mega Swag Bucks Friday, and if you used your Swag Bucks for a Valentine's gift for your special someone, now is the perfect time to recoup some of them. You can earn Swag Bucks in increments of 10, 20, 50 and up to 100!
If you're not already a Swag Bucks member, register now so you can claim three FREE Swag Bucks, and then read through this post to learn more tips on how to maximize your Swag Bucks earnings.
As an aside, Swag Bucks has their 2nd birthday coming up next week, and a little birdie told me that there will be special perks for all members registered before then. So I'd encourage you to get registered today and start earning!