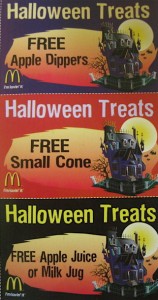 Jamie emailed me this morning to share that the Halloween coupon booklets are now available at McDonald's!
I know from past posts that not all locations offer these special booklets that are printed a few times a year, so you may want to call your local store to see if they are participating.
This booklet includes:
(4) FREE Apple Dippers
(4) FREE Small Cones
(4) FREE Apple Juice or Milk Jugs
Priced at just $1, these are a fantastic treat to hand out to kids for Halloween and also inexpensive enough to hold onto a few for yourself to treat kids throughout the year.
The fine print does state that they're valid only for kids ages 12 and under, and they cannot be used until 10/31.
Please share in the comments if you find these locally!
Thanks, Chattanooga Cheapskate!