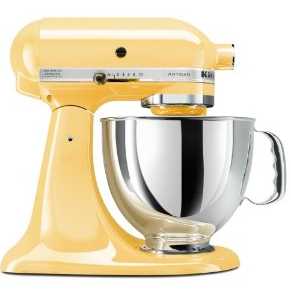 Amazon's having a great sale on the KitchenAid 5-Quart Stand Mixer!  Save $150 off the list price, but don't stop there!  There's also a new $30 Kitchen Aid mail in rebate available.  Only select colors are available at this great price.  Here's how this deal looks:
Purchase the Kitchen Aid 5 Quart Mixer from Amazon for $199
Submit $30 mail in rebate.
You can also decline the Food and Wine subscription on the rebate form for an additional $12 rebate.
Enjoy your beautiful mixer for only $157.99 with FREE super saver shipping!
You will find the details listed on the bottom of the rebate form that explain how to decline the magazine subscription.
"If you do not wish to receive the magazine and would like to request a refund of the subscription ($12 introductory value), please mail a copy of this rebate submission by 4/24/12 with your name and address to:

Time Customer Service, Inc.,
P.O. Box 62160, Tampa, FL 33662-2160"
Thanks, Passion For Savings!