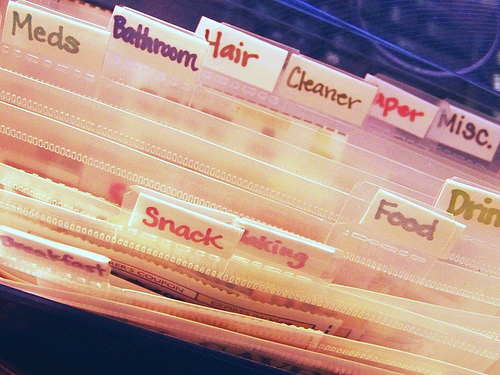 Photo by ladybugbkt
The following is a guest post from Shelly at Coupon Teacher:
Time. One word means different things to different people. The phrase "time is money" is probably familiar to all of us. Many times I am asked, "Shelly, how do you have time for all the coupons?" My response is usually a joking, "No kids yet." Honestly, as a teacher, I have 22-26 kids for 10 months out of the year. I also bring home work on a daily basis, attend church, and spend as much time as I can with my husband. So how do I make time for coupons, rebating, and blogging?
1. I think of it as a part time job. Coupons and rebates have quite literally saved us more money this year than I would have earned at a part time job. The plus side is flexibility and no extra taxes!
2. I enjoy it. It is much easier to find time to do things we enjoy.
3. I cut and sort coupons while watching t.v. with my hubby. When the channel flipping starts, I have something to do!
4. I take refreshing breaks from it now and again. I didn't even buy a newspaper this past week.
5. I utilize many resources available on the web for coupon match-ups and deals (including Deal Seeking Mom!).
6. I love the feel of giving away groceries to a needy family or friends in a pinch. I have given away hundreds of dollars in groceries for pennies.
People are asking me the wrong question. It shouldn't be, "How do you have the time?" The question should be, "Why do you make the time?" The answer is to help my family to become financially successful during hard economic times.
Shelly is the author of Coupon Teacher, a 4th grade teacher, and a deal seeker!