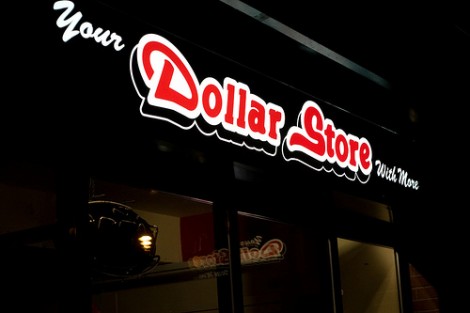 Photo by www.jeremylim.ca
The following is a guest post from Lina of Grocery Alerts Canada:
Most people spend the bulk of their grocery budget at major supermarkets and small chains. However, we recently started shopping at local dollar stores for great deals on certain items as well. One of the tricks with shopping at dollar stores is that you cannot be brand loyal. Instead, look for the store's private label products. While dollar stores do not typically accept coupons, the cost savings without coupons can still add up.
Here are some of our favorite deals:
Spices
At the grocery store, spices can be very expensive, as much as $4 or more for a small spice shaker. On the other hand, dollar stores have spices for a dollar or less. You won't find expensive spices like saffron or Herbes de Provence, but picking up spices like cinnamon and black pepper for less than a buck is a great deal.
Cleaning Supplies
We love to live in a clean house, but cleaning products are not cheap at the grocery store. We have found great deals on rubber gloves, dish soap, plungers, window cleaner, and bleach at our local dollar stores.
Greeting Cards
It is a nice feeling to receive a well written card for your birthday or anniversary, on a holiday or just because. In our family, there are many young children that love receiving cards in the mail. At specialty card stores and grocery stores, greeting cards can cost over $3. At dollar stores, the quality of the cards and paper is not as high quality, but you can often get more than one for a dollar, and the importance of the card is the message inside of it anyway.
Beauty Supplies
It is amazing how much some beauty aids cost at drugstores and grocery stores. We find that the dollar store has great prices on products like nail polish remover and epsom salts.
Cooking Supplies
Tinfoil, baking soda and baking powder are all on my shopping list at the dollar store. On a price per unit basis, these often are great deals. For many products on this list, the best deals are often on the "no-name" products. You must be comfortable purchasing outside your typical brand to save money.
Calculate the Price per Unit
To be sure the products you're purchasing are really a great deal, calculate the price per unit basis of the product:
For example, if a 250g container of baking powder is $1 at the dollar store, the price per gram of baking powder is $0.004. If the grocery store carries a different brand of baking powder at $3.50 for 1 kg, the price per gram would be $0.0035, an even better price. Use a pocket calculator or your mobile phone to calculate what is a better deal.
Keep in mind to consider the expiration dates on anything you buy in larger quantities (especially with baking powder!).
What other great deals have you found at the dollar store?
Lina Zussino is the co-founder of Grocery Alerts Canada, home of canadian grocery deals and printable grocery coupons. She enjoys teaching group fitness and saving money in beautiful Victoria, BC with her husband Steven.