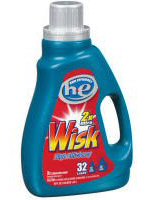 I can't say that I've tried Wisk HE Laundry Detergent personally – I'm not one of the lucky mamas that have made the upgrade to a high efficiency washer yet, but I did sniff a bottle at BlogHer and it smelled good, LOL!
Luckily you don't really need to hear my opinion on it anyhow, because you can get a FREE bottle to try it out for yourself.
The comments on the Laundry Line Blog have been closed, and it appears the sample is no longer available. Just leave a comment on The Laundry Line Blog, and they'll contact you to send it out.
Please do not leave your comments here. I don't have the ability to send you any free laundry detergent!
I'm sure this one won't last long, so hurry and leave your comment now!
Thanks to the fabulous Maria Bailey of MomSelect, Mom Talk Radio, and MomTV (when does she sleep???) for sharing this with me . . . and therefore you!