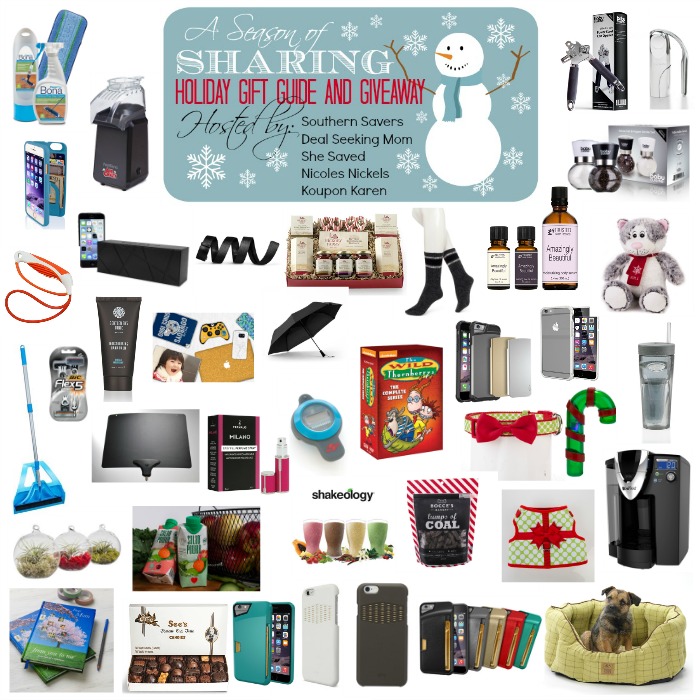 Today is the fourth of five days of awesome gifts and giveaways for the Season of Sharing 2015! Once again I've teamed up with 4 other bloggers to bring you an amazing 2014 Holiday Gift Guide this year — Koupon Karen, She Saved, Southern Savers and Nicoles Nickels.
Today's post is all about gifts for everyone, including the dog! Check out this cool assortment of items for just about anyone on your list.
One (1) lucky winner will win all of the items featured in this post! Wowza, that's over a $1300 value! Make sure you visit each of the other bloggers linked aboved for more chances to win!!!
---
Product Name: Mohu HDTV Antennas
Purchase Information: Mohu antennas can be purchased in Best Buy, Walmart, or on gomohu.com.
Product Price: The price of antennas ranges depending on your location, but run from $19.95 to $149.99.
Mohu offers a full line of high-quality, easy-to-use and cost effective HDTV antenna products. Since introducing the best-selling paper-thin Leaf Antenna in March 2011, Mohu has helped customers save more than $200 million by reducing or eliminating their monthly cable and satellite bills. Check out their TV-For-Free tool on their website to see which antenna is best for you.
---
Enjoy an exquisite cup of smooth tasting coffee every time with the Opus Single Serve Coffee Maker from iCoffee. This coffee maker features Spin brew technology that steams and stirs your coffee to eliminate acidity and any bitter aftertaste.
---
Product Name: Shakeology®
Purchase Information: Shakeology.com
Product Price: $129.95 plus shipping & handling
Shakeology® is your daily dose of dense nutrition. Shakeology® can help you*: Lose Weight, Provide Healthy Energy, Support Digestion + Regularity, and it Tastes delicious too! Shakeology® offers 6 scrumptious flavors: Chocolate, Vanilla, Strawberry, Greenberry, Chocolate Vegan and Tropical Strawberry Vegan.
*These statements have not been evaluated by the Food and Drug Administration. This product is not intended to diagnose, treat, cure, or prevent any disease.
---
Never has opening your favorite Bordeaux or treasured vintages been more effortless. The intricate technology of the Vertical Lever Corkscrew allows for a quick and sleek release of natural and synthetic corks, creating for an unparalleled tasting experience.
---
Product Name: House of Paws Pet Products on ValuePal.com
Purchase Information: ValuePal.com
Product Price: $71 – $135 Use code "HOP-ValuePal" at checkout to get an additional 35% off all House of paws items. Coupon Expires 12.31.15
House of Paws has developed a reputation for high quality luxury pet products. For deep filled designer pet bedding, stylish clothing, and our ever expandig toy range, choose the House of Paws – as all pets deserve a little luxury.
Valuepal offers a wide range of dog and cat beds, dog and cat toys, dog leashes, collars and harnesses, dog coats, dog and cat grooming and pet accessories at a discount.
These products were designed to offer quality, durability and comfort for a pet's lifestyle.
---
The ShedRain WindPro Auto-Open/Auto-Close is a best bet for the storms ahead. One of the only compact umbrellas to offer vented canopies engineered to resist windy conditions, the ShedRain WindPro also features FRP (Fiber Reinforced Polymer) shaft and ribs for the ultimate in durability.
---
Pong does what no other case can — embedded with a patented, micro thin, gold-plated antenna, it reduces exposure to potentially harmful cell phone radiation while maintaining your signal. Beyond protecting from radiation, Pong cases provide a 4'-6.6' drop protection certified to U.S. military specifications.
---
Product Name: Travalo Milano
Purchase Information: us.travalo.com
Product Price: $49.00
The Travalo Milano is the most refined and luxurious portable fragrance experience to date finished in a luxurious leatherette with finely crafted and polished metal parts. Decant your fragrance magically from your fragrance bottle into the leak proof MILANO refillable portable spray, in just a few seconds. No other refillable portable sprays are so convenient and easy to use! TRAVALO and is available in 8 elegant and timeless colors!
---
Product Name: CM4 Q Card Case
Purchase Information: CM4 Store on Amazon or direct at www.cm4.com.
Product Price: $39.99
Q Card Case from CM4 combines the perks of a stylish iPhone accessory with the convenience of a built-in wallet that allows easy access to ID, cards and cash. This case is essential for anyone who hates to fumble for ID or carry extra bulk, and is very pocket friendly. Also, great for traveling.
---
Product Name: SaladPower
Purchase Information: SaladPower is available online via Amazon, Shopify and eBay, as well as in stores across New York City.
Product Price: $Individual bottles of SaladPower are available for $2.99. You can also purchase a 4-pack for $15.99 or a 12-pack for $42.99.
SaladPower is an all-natural, premium juice that's jam-packed with veggies, fruit and vitamins! SaladPower's taking on the juice industry with a non-GMO product that tops the competition when it comes to nutrition facts and affordability. Check out this awesome new company's delicious all-veggie, mango, apple and pineapple flavors!
---
Enjoy rich and powerful sound with no need for wires with this stylish and portable BoomBrick Wireless Bluetooth Speaker. Compatible with all Bluetooth devices as well as laptops iPod and MP3's – a guaranteed hit with all the family!
---
Product Name: Tea Time Collection Gift Box
Purchase Information: Hickory Farms' food gifts are available at Holiday Market locations nationwide, on hickoryfarms.com and at leading retailers.
Product Price: $30.00
This gift has everything you need for the perfect tea time: brew a hot cup of English Breakfast or Asian Green Tea. Spread some of our delicious fruit spreads on our sweet, buttery shortbread biscuits. When you are finished, enjoy a jumbo crunchy frosted pretzel or indulge yourself with a Belgian Truffles.
---
EYN cases can fit on most smartphones including the iPhone 4/4S, iPhone 5/5S, iPhone 6 and 6 plus as well as the Samsung Galaxy S4 Android phone. The Eyn cases (which stands for "everything you need") services as an all-in-one storage piece for cash, credit cards, keys, and of course, your smart phone. EYN has a built-in storage compartment that also serves as protection for your smart phone as well. Also included is a mirror inside, which doubles as a stand to rest your case while watching videos or playing applications with ease.
---
Not only do the belts look great, fit perfect, but on top of everything, when you buy a Mission Belt you are also becoming a part of a great philanthropic effort or as we like to call it, "The Mission." Here at Mission Belt Co, we don¹t just want our customers to look good – we want them to feel good too. That¹s why a dollar from every belt sold goes to fight global hunger and poverty. To date, over 26K Kiva (peer-to-peer micro lending) micro-loans have been funded from the sales of Mission Belts.
---
Total comfort with a non-slip grip, an ergonomic handle to absorb pressure, stylish design and spinning is smooth and effortless with a durable turning knob. A fantastic kitchen tool for people with joint pain, carpel tunnel syndrome and arthritis! Will make a fantastic gift for the special seniors in your life.
---
Product Name: The Wisp
Purchase Information: online at Thewisp.com
Product Price: $29.99
The WISP's innovative, electrostatic polymer bristles are amazingly effective at capturing dirt, pet fur, lint and other debris to clean floors, carpets, upholstery and outdoor surfaces like no other tool on the market.
The 3-piece WISP system includes:
• Ingenious, patented foot-operated disposal device ever designed—the WISPpan—eliminating bending and kneeling to collect debris.
• Angled, squeegee-like design, promoting an easy push or pull WISPing motion that requires only one hand.
• A telescoping handle, providing easy access to hard-to-reach places.
• A condensed storage length of only 29 inches, providing great transportation and storability options.
---
Climb aboard the Thornberry CommVee and get ready for a wild adventure with the release of The Wild Thornberrys: The Complete Series on DVD. Available at Wal-Mart on October 20th, 2015 and widely December 8, 2015, the 15 disc set contains all 91 globe-trotting episodes of the popular Nickelodeon series. The hit series The Wild Thornberrys follows the Thornberry family as they travel the world in their Communications Vehicle (or CommVee) looking for rare animals to film.
---
Product Name: Air Crazy® Popcorn Machine
Purchase Information: The West Bend Air Crazy can be found online at westbend.com or at Target.
Product Price: $29.99
Quick, clean and easy, the Air Crazy machine pops up to 3.5 quarts of popcorn in as little as 3 minutes; providing a super speedy snack. The machine also includes a convenient measuring cup that can portion single or family-size servings, and doubles as a convenient butter-melter, so every pop is perfect.
---
Product Name: MilestonePod
Purchase Information: MilestonePod can be purchased on the MilestonePod website and on Amazon. MilestonePod is also available at some local retailers (https://milestonepod.com/store-locator/).
Product Price: $24.95
MilestonePod is a lightweight, durable device worn on the shoe that provides runners and walkers with detailed activity data as well as insights on their performance and how to improve it. Using a free mobile app, runners are able to track workouts using a combination of metrics like stride length, foot strike, pace, cadence and more. MilestonePod is the perfect stocking stuffer for the outdoor lover or fitness junkie in your life!
---
Product Name: SkinIt
Purchase Information: Skinit.com
Product Price: Skins start at $20.
Personalize your gifts this holiday season! Skinit makes it easy and fun to customize all of your electronic devices (cell phones, laptops, gaming consoles & more). Whether it's a photo of your pet, favorite sports team or that crazy family photo, you can create one-of-a-kind cases and skins!
---
A beautiful black and white shade with stylish oval shape made of glass that is sure to steal the spotlight in your kitchen. Bring class, and loads of fun to your dining room table – a bobuCuisine original. Features an adjustable ceramic grinding mechanism, covered lid cap that helps keep salt and pepper fresh and comes with a classy box design which makes it an awesome gift idea.
---
The Bona PowerPlus line of deep cleaning floor care products provide three times the cleaning action and include the Bona PowerPlus cleaning solution and the new Bona PowerPlus Deep Clean Pad with patented PowerLoop technology. Specifically formulated for hardwood floors, The Bona PowerPlus like of floor care products work to deep clean and bring beauty to hardwood floors. Safe for hardwood floors this GREENGUARD certified, ready-to-use, residue-free formulation provides deep clean results that are fast, beautiful and easy.
Our Martha Stewart Pets Polka Dot Present Harness is designed for comfort, with a padded chest cushion that helps keep your dog comfortably and safely restrained during outings. The harness features a sophisticated polka dot, present design and a breathable inner mesh lining. With Martha Stewart Pets, your dog is always fashionable. Only at PetSmart.
---
A new way to play! This highly portable and versatile fetch device can shoot long or short distances – you can change it up each time you shoot! Five different fetch toys can be used with the Ultra Sling to keep your dog engaged and entertained.. Air, Sea and Land – Chuckit! has it covered!
---
Product Name: See's Candies 1 lb. Assorted Chocolates
Purchase Information: Product can be purchased at Sees.com and at See's shop locations. During the holiday season, shoppers can also visit their local malls to pick up their favorite treats at See's pop-up Holiday Gift centers located nationwide
Product Price: $18.50
Made Mary See's way. Amazing flavor — enticingly arranged with milk and dark chocolate-covered nuts, buttery caramels, our famous California Brittle®, Bordeaux™ and much more.
---
This non sticky hand balm has been specifically produced for men, it's intense non greasy formula moisturises, absorbs quickly and protects the hands leaving them nourished and looking healthy.
---
Silk Innovation's Silk Armor Tough Case is a sleek and affordable case that offers military-grade protection guarding your device from drops, dings and scratches. The dual-tred design disperses shock away from your iPhone, while the elevated 360-degree corners protect the screen from scruffs and scratches. Includes three interchangeable backplates so you can switch colors from gunmetal, gold and silver.
---
Have you ever wondered what your Father was like as a child or intrigued to know about how your grand-parents
met? The award-winning range of guided memory books is made up of beautifully designed hard back books – the perfect gift for every loved-one, each one contains around 60 fun and inspiring questions
carefully designed to inspire your family to enjoy telling their story – to help you to find out amazing things about them.
Available in Dear Mom, Dear Dad, Dear Grandma, Dear Grandpa, Dear Daughter, Dear Son, Dear Sister, Dear Brother and Dear Friend.
---
Silk Innovation's Vault Slim Wallet Case is an ultra-slim and protective wallet case that comfortably fits three card plus cash. Durable one-piece construction provides full-frame protection, while a lay-flat screen guard provides ultimate screen protection. A soft-finish allows the case to easily pull out of your pocket.
---
Silk Innovation's PureView Clear Case is an Ultra-slim, crystal clear case that offers heavy duty protection with no extra bulk. The dual-tred design disperses shocks away from your iPhone, while the lay-flat screen guard elevates the screen for maximum protection. The customizable backpanel allows you to print your own design to fit your style.
---
Our Martha Stewart Pets Green Polka Dot Adjustable Collar is designed to keep your dog safe during outings. The adjustable collar is lightweight and comfortable so it won't irritate your dog's neck and features a festive holiday design. With Martha Stewart Pets, your dog is always fashionable. Only at PetSmart.
---
Product Name: ZeroWater Tumbler
Purchase Information: Target, Bed Bath & Beyond, or WalMart
Product Price: $9.99
Now you can have pure-tasting water anywhere you go. The ZeroWater Tumbler combines the top-performing filtration technology with a sleek, convenient design so you can get great taste out of your tap water whether you're at home, at work, or at the gym.
---
Product Name: Exotic Angel Joy Globes
Purchase Information: Angel Joy Globes can be purchased at retailer such as Lowe's, Home Depot and Walmart and retail for approximately.
Product Price: $7.98
Each of these stunning globes contains an Air Plant (Tillandsia) which adds an ethereal element to these ornaments. These low maintenance globes are easy to care for and don't require much water. The glittering globes come in festive colors including red, gold and silver to match everyone's holiday décor.
---
Product Name: The Amazingly Beautiful Collection!
Purchase Information: Trustedhealthproducts.com
Product Price: Free bottle offer – pay only $4.95 for shipping and handling!
The Amazingly Beautiful Collection is Amazingly Beautiful – Facial A.M. day face oil serum and P.M. evening face oil serum and Amazingly Beautiful – Body moisturizing body serum
Every bottle is of Amazingly Beautiful Facial A.M. and P.M. is personalized with the user's name and makes a unique gift for Christmas or any other occasion!
The collection for men – called The Man – is also personalized and is a great gift idea!
---
Spice up your fall look with statement boot socks! No nonsense offers a variety of essential sock styles that pair perfectly with every boot in your closet, like this super soft Marled Stripe Boot Sock. The easy, cozy and stylish gift for every stocking on your list is one size fits all!
---
This Luv-A-Pet Lucky Plush Cat is soft, furry, cuddly and just plain adorable. Your child will love having this plush cat to call a friend. Only at PetSmart. From 10/1/2015—1/31/2016 PetSmart will donate 10% of the sale of this item to PetSmart Charities in the US or PetSmart Charities of Canada to help save homeless pets.
---
Even if your dog was a little more naughty than nice this year, he still deserves to enjoy Bocce's Bakery Lumps of Coal Holiday Treats. These delicious treats are all-natural, and feature a delectable peanut butter flavor your dog will love.
---
Your dog will be intrigued and entertained by this Top Paw PetHoliday Light-Up Toy. Decked out in holiday colors, this toy satisfies the urge to chew, and lights up on the inside when played with. Only at PetSmart.
And here is the part you have been waiting for!
One (1) lucky reader from Nicole's Nickels, She Saved, Deal Seeking Mom, Koupon Karen and Southern Savers will win all of the items featured in this post! This prize is valued at over $1300!

To enter, just complete the form below!

I received the same prize as the winner. My opinions are 100% my own.