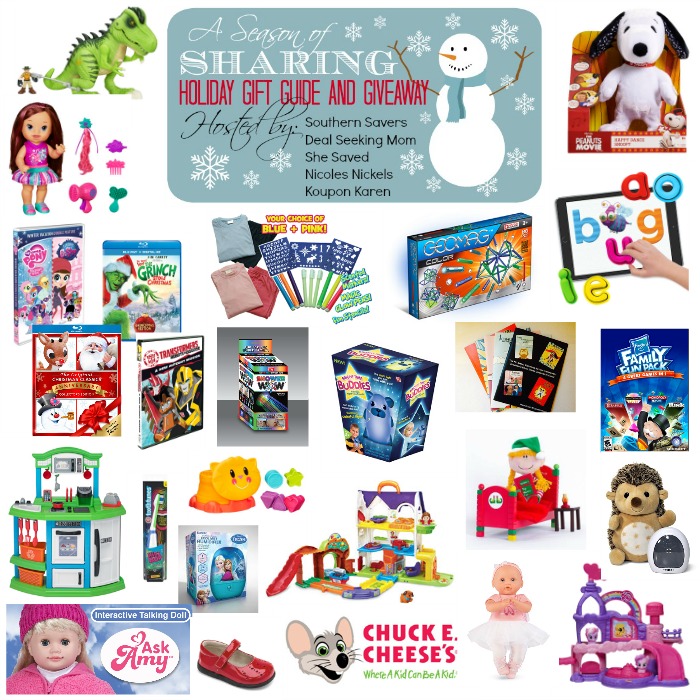 Today is the second of five days of awesome gifts and giveaways for the Season of Sharing 2015! Once again I've teamed up with 4 other bloggers to bring you an amazing 2014 Holiday Gift Guide this year — Koupon Karen, She Saved, Southern Savers and Nicoles Nickels.
Today's post is all about gifts for young children! Check out this cool assortment of items for just about anyone on your list.
One (1) lucky winner will win all of the items featured in this post! Wowza, that's over an $800 value! Make sure you visit each of the other bloggers linked aboved for more chances to win!!!
---
Product Name: Ask Amy Doll
Purchase Information: Askamydoll.com
Product Price: $120.00
A doll that talks and answers questions! We've gotten used to the amazement of people's faces when they first see Ask Amy. Her lips move so naturally as she speaks, and she turns her head and blinks her eyes just like a real little girl! Ask Amy was created with the idea that a completely lovable doll could be equally engaging and educational. While technology keeps adding options to children's play with leaps and bounds, the wholesomeness of old-fashioned toys often gets lost in the mix.
---
Product Name: Emson Disney Humidifiers Star Wars and Frozen Characters
Purchase Information: Online at www.buycoolmist.com
Amazon and all major retailers including walmart, target, kohls, bestbuy, among others.
Product Price: Various prices based on size. Ranging from $39.99 to $59.99 and to $99.9
Various sizes of the Disney Star Wars and Frozen Humidifiers. The Ultrasonic Cool Mist Humidifiers adds moisture to any room! It fights mold and mildew and features anti-microbial technology, on/off dial (min/max settings) and a mist nozzle. Different sizes and prices.
---
Product Name: Geomag Color 86 piece
Purchase Information: Amazon.com and Specialty Retailer
Product Price: $59.99

The brightest colours take shape thanks to the Geomag Color line, while the new, super-coloured panels mean you can let your imagination run wild with even more stable structures. Imagine anything you like and Geomag Color will do the rest.
---
See Kai Run is the premier provider of innovative, fashionable, quality-crafted footwear, designed specifically to promote healthy foot development in children, from the crib to 8 years old.
---
Explore the Go! Go! Smart Friends Busy Sounds Discovery Home with Miss Norah! The interactive house features seven MagicPoint locations that encourage imaginative play and emphasize cause and effect relationships. Simply place Miss Norah on one of the MagicPoint locations to experience her friendly personality, motion, lights and more. Put Miss Norah in the elevator and watch as the elevator magically moves up and down. Activate the MagicChat feature in the playroom, and hear Miss Norah and other MagicPoint™ characters (sold separately) chat and sing with each other. Miss Norah also responds to other MagicPoint locations on Go! Go! Smart Friends accessories and playsets (each sold separately). Press Miss Norah's light-up button, and she will come to life by introducing herself, sharing the things she likes to do and singing two sing-along songs. It's playtime where friendship leads to learning!
---
Mon Premier Bebe Calin Ballerina is the ideal first baby doll for the littlest mommies. Its soft beanbag body invites cuddling and can be posed like a real baby for creative pretend play. Designed in France and part of the Mon Premier Collection for ages 18 months and up, this 12-inch baby doll is just the right size to cradle in a young child's arms. It has soft-to-the-touch, vanilla-scented vinyl skin and open-and-close eyes. Mon Premier Bebe Calin Ballerina wears an all-in-one-piece ballerina fashion that's easy to put on and take off. She is recital-ready in leotard, tutu, tights and pink slippers with ribbon laces.
---
Product Name: Hasbro Family Fun Pack
Purchase Information: At retailers nationwide or online at outlets including Amazon.com
Product Price: $19.99 – $39.9
Hasbro Family Fun Pack brings families together with a collection of four favorite Hasbro board games that have been adapted into interactive video games. The compilation pack offers something for the entire family with Monopoly+, Trivial Pursuit Live!, RISK and Scrabble. Each game can be played by up with four players, with up to six players in Monopoly+, providing countless hours of family fun and enriching experiences.
---
This complete series offers four titles and an accompanying discussion guide. This book series, though in children's book format, is a great educational tool to promote education of autism in efforts to facility earlier detection, diagnosis and advocacy for early interceptive services. It is also a great tool for promoting understanding of autism for typical peers, educators, social service professionals, extended family and the community at large to better support those diagnosed on the autism spectrum through understanding.
---
Product Name: Cozy Comforts Kitchen
Purchase Information: Walmart

Product Price: $35.00

This ultra modern kitchen features the latest in realistic kitchen design including: single-cup coffee machine, smartphone, raised "gas" burner that makes a boiling water sound when pots and pans are placed on it, microwave, refrigerator, oven, toaster, recycling and play bins. Multiple working doors give it a realistic feel. Efficiently engineered, the Cozy Comforts Kitchen has eliminated all screws and replaced them with snaps and press fits for easy assembly.
---
Magical, musical adventures await inside the PLAYSKOOL FRIENDS MY LITTLE PONY MUSICAL CELEBRATION CASTLE playset! Place PINKIE PIE and STARSONG figures inside the castle, then push the tower down to spin the dance floor and see the friends twirling to ponyrific party music. Little ones can take their pony figures for a ride on the elevator, or send them down the slide.
---
Share the wonder and the joy of these seven timeless stories with your children and grandchildren…creating new memories and holiday traditions that you will cherish through the years.
---
Product Name: Tiggly Words
Purchase Information: Tiggly.com, Amazon and ToysRus

Product Price: $29.95

Tiggly Words Learning System is designed for children 4-8 years old. The System includes Tiggly Words toys that work with three playful apps to turn tablet time into an interactive, tangible learning experience – a learning experience that engages children in creative play, encourages them to explore language patterns and sounds, and helps them learn about vowel sounds, word building, and phonics. Compatible with leading tablets, the Tiggly Words Learning System includes a set of five colorful smart vowels that interact with 3 incredibly engaging games: Tiggly Submarine, Tiggly Doctor, and Tiggly Story Maker
---
Cloud b introduces the cuddly new Stay Asleep Buddies – the Simple Sleep Trainers, developed to help children understand when it's time to stay in bed and when it's okay to wake up especially on that holiday morning. The Sleep Buddies feature a cuddly interactive plush Hedgehog that engages children while delivering gentle melodies and glowing reminder on bedtime and playtime. Developed in conjunction with the Sleep Lady, Kim West, Stay Asleep Buddies are the perfect solution for early risers giving both parent and children their much-needed rest.
---
Product Name: Happy Dance Snoopy
Purchase Information: Target, Toys R Us, Amazon

Product Price: $24.99

Kids will love to relive the magic of The Peanuts Movie with this adorable plush Happy Dance Snoopy who can give kisses, laugh, howl, belch, and of course, boogie along to the irresistible tune of "Linus and Lucy," recognized everywhere as the Peanuts theme song!
---
Style this trendy cutie's hair in all of the latest fas hions just like the big kids! Comb and style BABY ALIVE PLAY N' STYLE CHRISTINA doll's soft, pretty hair into a fun braid or pony tail to show off her pretty pink highlights! Kids will love adding in colorful hair extensions, bows and barrettes to showcase her flair.
---
Tyrannosaurus Rex is the ultimate dinosaur for preschool JURASSIC WORLD fans to track and capture! Features light-up eyes and a roaring action. Includes a human figure and a capture cuff to track the Tyrannosaurus Rex but watch out – the head-chomping Tyrannosaurus Rex might gobble the human figure up first!
---
Product Name: Chuck E. Cheese's visit (guest pass)
Purchase Information: Chuck E. Cheese's welcomes walk-in visitors. Fundraisers and birthday parties can be booked at www.chuckecheese.com/events

Product Price: Prices vary by package

Come party with Chuck E. Cheese! With this Guest Pass, you and the family can enjoy a large pizza, 4 drinks, 30 tokens, and we'll also include 5,000 tickets!
---
Product Name: Draw Jammies
Purchase Information: Drawjammies.com
Product Price: $19.99

Draw Jammies are machine washable so you can design your jammies, wash and start again. Draw Jammies come with 6 different scented markers that bring life to designs and pictures. Includes 3 stencil sheets, 6 scented markers and 3 glow pens to draw stars, colorful rainbows, animals, letters, names and whatever comes to mind
---
Product Name: Elf Workshoppe Products
Purchase Information: Online at Elfworkshoppe.com and Toys R Us
Product Price: $9.99 to $24.99
The Elf WorkShoppe was founded in 2015 with the mission of "Bringing Christmas to Life" with snuggable huggable Elf and magical Christmas accessories. Elf and accessories can be purchased at www.elfworkshoppe.com and all Toys R US stores.
---
Product Name: ShowerWow
Purchase Information: Shower Wow is available at Walmart, Bed Bath & Beyond and buyshowerwow.com .
Product Price: $14.95
Shower WOW™ is a great bathroom accessory to brighten anyone's morning or evening routine. Powered by water pressure Shower WOW™ has a universal fit with a high quality chrome finish to match any décor. It's quick and easy to install – remove your existing shower head, replace with Shower WOW and turn on the faucet to shower a cascade of colors.
---
The lure of TRANSFORMRES saga begins a new chapter as BUMBLEBEE and a team of AUTOBOT action heroes embark on a new mission to protect and save Earth from a new faction of DECEPTICONS. Hasbro Studios' new top-rated animated series TRANSFORMERS: ROBOTS IN DISGUISE, which airs on Cartoon Network, is the latest installment of TRANSFORMERS franchise and builds on the lore of both the AUTOBOTS and DECEPTICONS. Featuring an all-new animation style, this new hit series is filled with exciting, action adventures and great humor for fans of all age.
---
Join your favorite ponies and pets and all of their friends for an amazing collection of six wintery fun adventures! Winter vacation is a magical event, especially if you live in Equestria or are friends with a girl who can talk to animals! The perfect stocking stuffer, Winter Vacation pairs three episodes each of two beloved series—My Little Pony: Friendship Is Magic and Littlest Pet Shop.
---
Product Name: Bright Time Buddies
Purchase Information: Bright Time Buddies® are available at Toys R' Us, Walmart, Kmart, CVS, and Target.
Product Price: $14.99
Bright Time Buddies® is a portable animal night light that ensures a good night's sleep no matter where you are. With a soft touch on the head, your Bright Time Buddies® rotates between three colors: blue, yellow, and green or children can keep it on the color of his or her choice with an extra tap. This nighttime friend is durable, portable, and soft enough to sleep with like a stuffed animal.
---
The POP-UP SHAPE SORTER toy will be a PURRfect new friend for baby! Little ones will love matching and sorting the four recognizable shapes, then storing them inside the friendly kitten base until they're ready for more fill and spill fun! The shapes also split apart into two separate pieces for added mix 'n match play. As baby plays, they can explore shapes and colors and practice hand-eye coordination. When it's time to go, the kitty collapses down flat for easy storage and portability.
---
Rock out with KIDZ BOP and keep away cavities! These awesome toothbrushes play your favorite KIDZ BOP songs while you brush your teeth.
---
The live-action adaptation of the holiday classic by Dr. Seuss, newly re-mastered in 2015 for improved HD picture and sound – includes Blu-ray + Digital HD. Starring Jim Carey as the Grinch plus Molly Shannon, Taylor Momsen and Christine Baranski. Directed by Academy Award Winner Ron Howard (Apollo 13).
And here is the part you have been waiting for!
One (1) lucky reader from Nicole's Nickels, She Saved, Deal Seeking Mom, Koupon Karen and Southern Savers will win all of the items featured in this post! This prize is valued at over $800!
To enter, just complete the form below!

I received the same prize as the winner. My opinions are 100% my own.