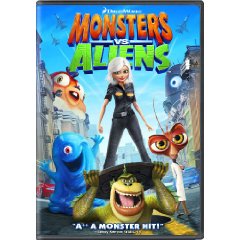 If you're looking for a deal on the Monsters vs. Aliens movie that's being released tomorrow, it looks like CVS might be your best bet for a deal. When you buy $20 of select Coke or Hershey's products this week, you'll receive an instant discount of $15 off the price of the movie!
Participating products:
Hershey's Jumbo Bag Treats, $5
Coke 12-Packs or Dasani 12-packs, 3/$11
Coke 2-Liter, Powerade 32-oz., Vitamin Water 20-oz., or Smartwater 1-Liter, 3/$4
Best scenario (Tuesday through Saturday only):
Buy (3) Coke 12-Packs, 3/$11
Buy (2) Hershey's Jumbo Bag Treats, $5
Buy Monster vs. Aliens DVD, $19.99
Use $5/$25 CVS Flu Survey Coupon
Just $20.99 for everything after $15 instant savings!
So basically you're getting everything for the cost of the movie which is pretty good! I couldn't find any coupons that match up with the participating products, so if you know of any, please share.
Update: Dealicious Mom just shared with me that there is also a $4 Monsters vs. Aliens mail-in rebate (PDF) available when you purchase two family-size packages of Hostess products.