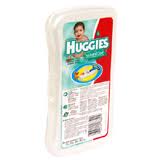 Some readers are reporting that they've received a $2/1 Huggies Wipes or Refills coupon from the Magic Coupon Machine at CVS. Since this coupon does not specify a size, you can use it to pick up the hard case travel packs for FREE!
Huggies Wipes Travel Case, $2
$2/1 Huggies Wipes or Refills CRT coupon
FREE after coupon!
Of course I wouldn't recommend running to CVS just to try and score this deal, but if you're already planning a trip to take advantage of some of the other weekly CVS deals, it's worth keeping in mind.
Thanks, Savvy Spending!