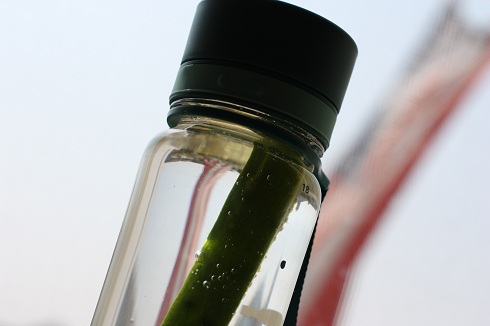 We all know that drinking more water has tons of health benefits. So why don't more of us take advantage of it? Well, let's face it — plain water can get pretty boring.
Up until recently I'd been drinking a lot of SoBe Lifewater, but now that the great B1G1 coupon offer is over, it can be a real budget buster. So I've been looking for an alternative beverage, and I think I may just have hit upon one!
I remembered today that Mandi mentioned to me when we were on vacation that her family enjoys drinking cucumber water. I just happened to have a cucumber in the refrigerator that was leftover from making some delicious Tangy Sesame Cucumber Salad for dinner tonight, so I sliced one up and tossed it in this new reusable water bottle from Aladdin. It's really quite tasty and very pretty too!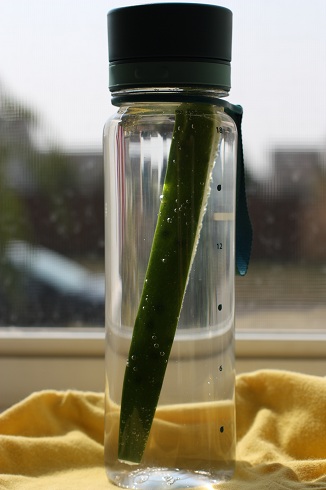 It also occurs to me that it's a much better alternative for the environment. I've been increasingly aware of the amount of trash our family generates, and this is one way to cut back on our output of plastic bottle waste.
To promote awareness of the environmental effects of disposable product packaging, Aladdin is encouraging people to Do The Reuse Challenge. This is a 30-day commitment to give up disposable paper cups, water bottles, or food containers — difficult, but definitely doable,.
You might be surprised at the impact just one person can have by reusing:
Seven million barrels of oil are used to produce the disposable bottles Americans go through in one year.
In the United States, 50 billion disposable water bottles are consumed per year; 137,000 per day; 1,585 per second.
It costs about $165 a year to make drip coffee at home versus $636 to buy drip coffee at your local café.
Unless we change our habits, 23 billion paper coffee cups will be thrown out in 2010.
Nine dollars will generally cover a decent lunch out. If you buy rather than pack a lunch five days a week, you shell out about $2,350 a year.
By accepting the Do The Reuse Challenge you'll be able to get discounts and free shipping on selected Aladdin products. Follow Aladdin on Facebook to stay in the loop about this challenge!
How do you cut back on disposable product packaging? Will you be taking the Do The Reuse Challenge?