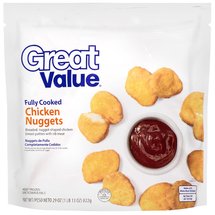 There have been a couple consumer recalls over the past couple of days that may affect Deal Seeking Mom readers, so be sure to check your stockpile this weekend. Please refer to the links included in each section for more details about the specific recalls:
Great Value Fully Cooked Chicken Nuggets

Perdue Farms, Inc. is recalling approximately 91,872 pounds of Great Value frozen chicken nuggets sold at Walmart because the nuggets may contain small pieces of blue plastic. The affected products are 1-lb 13-oz. bags bearing the establishment number "P-33944" as well as a case code of "89008 A0160" on the backside of the packaging. There is also a "BEST IF USED BY" date of June 9, 2011. Consumers with recalled products should contact Perdue Consumer Relations at (877) 727-3447.
Smith+Noble Roman and Roller Shades

1.3 million Smith+Noble Roman and Roller Shades have been recalled for repair due to strangulation risk. These shades — manufactured between 1998 and 2010 — join an ever-widening voluntary recall of all Roman and roll-up shades. Consumers with these shades should contact the Window Covering Safety Council (WCSC) for a free repair kit at (800) 506-4636 anytime or visit www.windowcoverings.org.