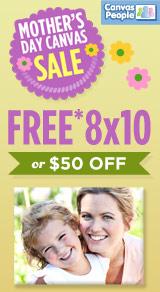 Just in time for Mother's Day – you can get a FREE  8×10 Custom Photo Canvas from Canvas People, a value of $49.99! You'll only need to pay the cost of shipping and handling which is about $15.
Here's how to get your FREE 8×10 photo canvas:
Upload your photo and design your canvas.
Shipping and handling is around $15.
You can also get $50 off any larger photo canvas  – up to 20×48! Be sure to order by 4/26 to guarantee delivery in time for Mother's Day!