It's spring break in our household this week… and in my book, spring break is the perfect time to do a little spring cleaning since I can take advantage of the additional help.
I have no shortage of various household cleaners in my stockpile; however, I've been a lot more considerate lately of the chemicals I'm using around the house, especially when I know my children will be handling them. In fact, we often forgo the cleansers altogether and just use my tried and true microfiber cloths.
I've shared the various ways that we use microfiber cloths for cleaning in the past, but here's a quick recap:
Microfiber cloths naturally attract dust, so you don't generally need any additional sprays.
Add a little water to your cloth and you can buff and shine windows without the need for glass cleaner.
They're heavy duty, so they can stand up to jobs that require a lot of scrubbing — like cleaning your microwave.
Reuse them again and again — just toss them in the washing machine and then in the dryer on low!
In addition, microfiber cloths are super absorbent, making them perfect for cleaning up those daily spills that always seem to happen in our house.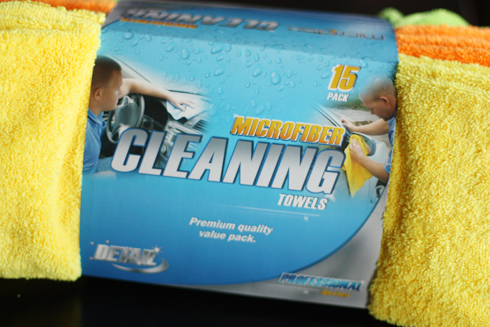 I'm actually in the process of transitioning our household to becoming paper-free — well, at least free of napkins and paper towels. I needed to add to our cloth inventory to accomplish this though, and I was surprised to see that a two-pack of cloths by a brand name company were priced at $2.98 in the cleaning aisle at Walmart. I reluctantly put a couple of packages in my cart and went on with my shopping.
As I was wandering through the store, I passed the automotive department and a little light bulb went off. I know that my husband has purchased large microfiber towels for our cars in the past, so I figured I'd see if they had a better selection in this aisle. Sure enough I found this package of 15 cloths priced at just $9.87! I love that it comes with a variety of colors so I can designate different colors for different tasks, and I have to say they are much thicker and nicer than the brand name cloths.
Moral of the story? Thinking outside of the box when you're shopping can save money!
Disclosure: I am a participant in the Walmart Moms program. Walmart has provided me with compensation for the time and effort spent creating this post. However, my participation in this program is voluntary and my opinions are my own — always have been, always will be.