The following is a guest post from Julia Wessels of The Frugal Find: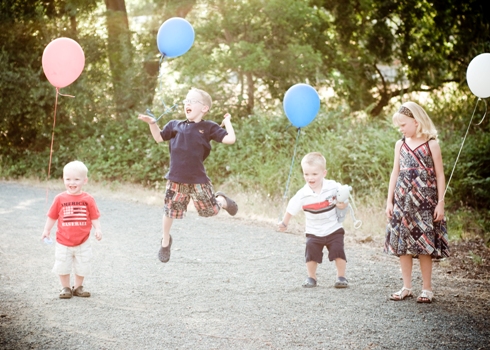 Photo by Angie Warren Photography
As a new homeschooling mom to 4, I was a bit taken aback by the cost of curriculum.  I realized it would be a bit more costly than public schools, but surely it would be cheaper than private school, right?  Unfortunately, I got caught up in all of the supplies I "needed" to make it seem like a school at home.  I had forgotten that I wanted it to be home first, school second.  Thankfully I realized this before any major money was spent.
I'd like to share with you some of the invaluable resources and tips I've found to make my homeschooling year a huge success, not only educationally but also financially.
Dig up what you already have at home:
Make a list of things you have around the house already that you won't need to re-buy for school this year.
Do you have a kitchen table? Good, because you won't need a separate "learning area".  You will find the kid's wouldn't use it anyways. Half the time we end up at the kitchen table or on the couch, and often we are in bed reading, comfy and cozy.
Do you have baking supplies, measuring cups, a measuring tape, clothes pins, coins? If so, you're well on your way to developing an extensive math and science curriculum for all ages. You don't need that telescope or microscope for your kindergartner; that can wait several years.
Do you have any older or broken electronics? Electronics such as broken dvd players, alarm clocks, etc. are wonderful for that child that loves to "see how things work".  They are often just a couple of dollars at your local thrift store.
Do you have board games? I am a big proponent of making learning fun. What is more fun than playing games?!  If you can make "school" fun at an early age, you are instilling a love for learning that will far surpass any amount of worksheets or expensive Latin curriculum.
Monopoly teaches money recognition to your younger children and economics, business, and finance to your older children.
Scrabble teaches letter recognition and spelling.
Candy Land teaches colors, and well, it's just plain fun!
Explore your community resources:
Public Library: The most valuable resource in your community is definitely your public library, and it's free!  The library contains a wealth of information, and –  more importantly – your children will be able to find books, dvds, or videos that interest them.  If your child is a bug lover, you can easily develop a curriculum that has bugs as it's focus, and your child will be all ears!
Homeschool Co-Ops: Joining a co-op is  also a very important aspect of homeschooling.  Co-ops provide a great opportunity for your child to gather with other children who are in the same boat on a weekly basis, and since the children will most likely be different ages, they will learn a variety of precious life skills.  At co-ops, you also have the option to tap into each other's strengths.  Maybe a mom in your group loves science and you have a passion for teaching math. Teaming up and sharing the teaching is fun for the kids and a huge relief to you.
Museum Memberships: This is  a very valuable asset to you in your local community.  Look out for reciprocal programs where you get into other musuems or zoos at no cost or half price.  Of course, you can imagine the learning that can be done at a variety of museums and at the zoo, but it's also a fun get-a-way day for the kids.
Other free resources:
Your Personal Computer & Printer: If you have a computer with internet access and a reliable printer, you could easily get through the first few years for close to free with resources such as these:
Live Webcams of local zoos and marsh lands
Free printable curriculum
Free printable worksheets and coloring pages
Homeschool Websites and Blogs with Valuable FREE Resources:
So, what will I need to buy?
School Supplies: You will go through a ton of school supplies, but being the frugal lover I am, I have to tell you…now is the time to stock up!  The Back to "Homeschool" sales are prolific, and if you stock up well now, you should be able to get through the entire year!
Crayons
Pens
Paper
Notebooks
Printer Paper
I'd also suggest a good size Dry Erase board, maybe it's just the teacher in me, but I love being able to draw diagrams or spell out words for the kids on the white board.
Just remember, homeschool supplies are all around you.  When you stop and think about it, you're teaching all day long already with a variety of tools.  Most of the day is a learning experience for your child one way or another.  Try to look at everything you do throughout the day and pull out the teachable moments and highlight them. I believe you will find you are well prepared for your homeschool journey!
This article was written by Julia Wessels, mom-blogger at The Frugal Find, finding you the best deals so you can maximize your resources.  I am a mom to 4 kids ages 2, 4, 6, and 8, and wife to an adoring husband.  I also serve as the Children's Pastor at our church.