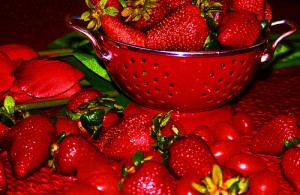 Photo by Faith Goble
Every week I'll pose a question for you to share your experiences and tips. If you have a question that you'd like me to post, I'd love to hear from you!
Recently, I received this question from Kelly:
I was curious to know how you save on things that don't usually have a plethora of coupons like fresh fruit, vegetables, butcher meats, milk, bread…
As a family, we're working to eliminate prepared foods and anything that contains high fructose corn syrup. Since we have five kids, we go through a gallon of milk, a loaf of bread or a bag of fruit very quickly, and I've been looking for additional ways to save on fresh foods as well.
How do you save on produce, meat, dairy and bread? Do you limit the amount of these foods that you buy in favor of cheaper processed foods? Do you shop at specialty outlets that offer these at a discount?

Join the discussion — add your two cents to previous Ask DSM Readers questions too!