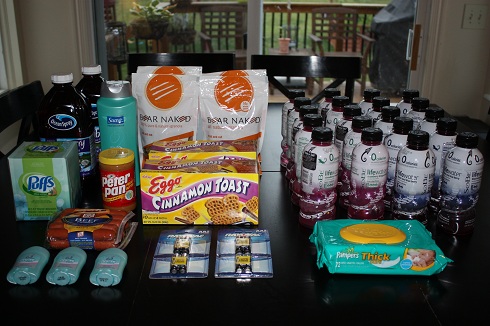 Every week I'll pose a question for you to share your experiences and tips. If you have a question that you'd like me to post, I'd love to hear from you!
Recently, Lisa asked this question on Facebook, and I wanted to open it up for DSM readers to share how they organize their stockpiles:
Could you share your creative storage ideas for all your "stockpile" items? I'm starting to find I need a better process for storing/sorting my bounty, especially healthy & beauty items. Any suggestions would be great! Thanks so much!!
Like Lisa, it's those little items that I have the hardest time storing in a way that's easy to get to and still neat and organized, and I'd love to hear your tips!
What do you do with your stockpiles?  How do you keep track of what you have, and the expiration dates of those items?  How do you store your stockpile items?  Do you use bins or shelves?  Do you keep your stockpile in a special room or closet?  Do you keep all of your stockpile items in the same place or do you separate your food items from your health and beauty items?

Join the discussion — add your two cents to previous Ask DSM Readers questions too!