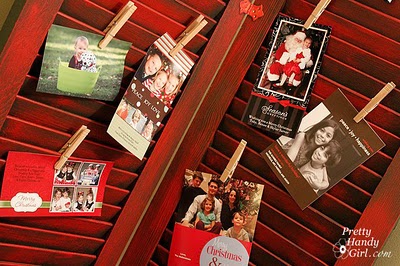 Photo by Pretty Handy Girl
Every week I'll pose a question for you to share your experiences and tips. If you have a question that you'd like me to post, I'd love to hear from you!
It's that time of year and Christmas cards are starting to show up in the mail! We like to tape the cards we receive on the spindles of the banister going upstairs, and I usually save them from year to year and cut the fronts out with pinking shears to use for gift tags.
If you're looking for inspiration for your cards, Mandi from Life…Your Way put together this fun gallery with 9 other ideas for displaying Christmas cards.
How about you? How do you display the Christmas cards you receive? What do you do them once the holidays are over?
Join the discussion — add your two cents to previous Ask DSM Readers questions too!