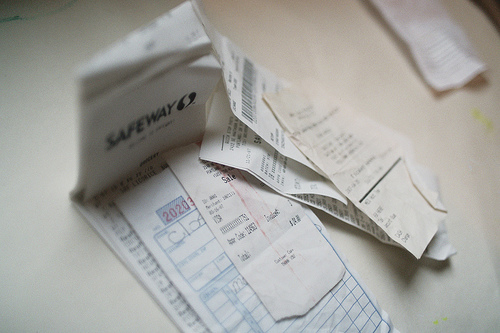 Photo by Sarah Gilbert
Every week I'll pose a question for you to share your experiences and tips. If you have a question that you'd like me to post, I'd love to hear from you!
Recently, Carrie sent me an email with this question:
Hi, Tara. How do you decide on a reasonable grocery budget? We are a family of 5…including a baby…and it seems like $350 a month isn't working for us. Any ideas on a reasonable budget?
I think that your grocery budget is going to depend on how much time you want to invest in couponing and shopping multiple stores as well as on where you live. Those of us with grocery stores that double coupons up to $1 have a much easier time than someone whose stores don't double at all! I don't think it's possible for me or anyone else to tell you what your budget should be. Instead, just focus on cutting back a little each week until you reach a number you're comfortable with — both financially and in regards to the amount of time you're spending and the food you're buying.
How did you decide on your family's grocery budget? What factors did you consider when deciding? How did you know when you'd gotten it as low as you were comfortable going? Have you ever made a decision to raise your grocery budget? Do you expect your budget to change as your family grows?

Join the discussion — add your two cents to previous Ask DSM Readers questions too!