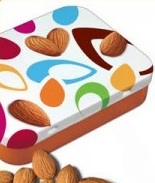 Get a FREE almonds tin from the Almond Board of California. I received one of these last year, and it's a great way to keep a little healthy snack in my purse! (I throw in a few dried cherries for some sweetness.)
Note that last time I received it, the tin was not prefilled with almonds. They also did this offer about two years ago, and the tin I received was filled with almonds. I guess it will be a surprise this time because the form does not specify.
Thanks, The Freebie Blogger!