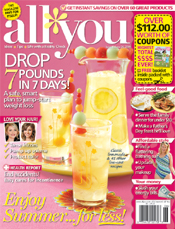 I'm sad to announce that the fantastic ALL YOU magazine offer in its current form will no longer be available as of August 1st. The new Southern Living at HOME catalog takes effect at that time, and the new regular price will be a one-year subscription for $19.95. I'll hopefully be able to offer a slightly better price, but I need to get more details first.
However, I'm excited to share that we're going to make the most of this offer with what little time we have left. All orders placed from now through noon PST on July 31st will be reduced to just $16 for a 2-year subscription!!!
For additional information and to place an order for a subscription at this fabulously low price, check out the ALL YOU magazine ordering page.
I apologize, but due to the special nature of this offer orders already submitted cannot be price adjusted.