The following is a guest post from Shaina at Food for My Family.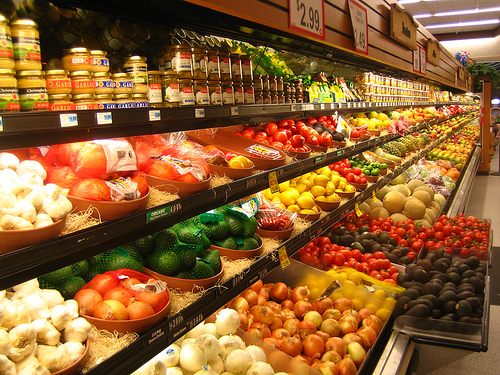 Photo by Rick
1. Browse the weekly ads online before you go to the store
Most major retailers (and even some smaller ones) post their weekly circular online. Looking it up before you shop will give you a clear goal when you get into the store. Plus, you'll know what deals you're going to find in each aisle before you reach the aisle, which makes you less likely to pick up that $5.00 frozen pizza for an easy meal if you know spaghetti noodles and sauce are on sale 2/$4.00 four aisles down.
2. Combine online printable and clipped coupons with specials
If you're reading this, the idea of combining coupons and specials is probably not a new concept for you. Here at Deal Seeking Mom, Tara is well versed in the couponing arena, and she definitely covers stores in several different markets with the help of fellow bloggers. It is highly likely that she will do some of this legwork for at least one of the major retailers in your area.
3. Make a meal plan
Start by going through your cupboards and fridge to determine what you have on hand. After you know what you have, see what you can pair with the advertised specials and coupons to make a full meal.
For example, if you have leftover chicken and mushrooms in your fridge, you might be looking for a special on pasta, creamed soup or rice to make a casserole. If casserole isn't your cup of tea, maybe you're searching for deals on mayo and vegetables to make chicken salad.
You'll save money by using every last bit of the food you purchased and not letting it go to waste, and you'll breeze right past unnecessary items you purchased before because you were just buying to fill the fridge.
4. Avoid impulse buying
By walking into the store armed with the weekly ads, coupons and a meal plan, you'll know exactly what you need to purchase. While these things already help with impulse buying by cutting down on browsing because you know exactly what it is you're looking for, it can also keep you clear of other impulse buys. Knowing you don't need anything in the frozen convenience foods aisle will stop you from adding ice cream bars and Hot Pockets to your cart and, therefore, your total bill.
5. Buy in bulk whenever possible
Having a box full of single-serving crackers to stick in your child's backpack seems convenient; however, purchasing the family size bag is usually far more economical. You'll reduce your bill, and you'll also be reducing waste, which is better for the environment, and being environmentally friendly just feels good.
6. Shop at multiple stores
I'm not advocating driving miles and miles to shop at both major supermarkets in your area, but if you know when and where the deals are, it can be very easy to run in for a few good deals when you're on your way someplace else.
Additionally, shop at competing businesses located near each other. For example, I can see my major supermarket across the street when I am at Super Target. Going into both stores is as easy as parking in the middle and walking back to my car in between. I save money by getting the best price on necessary items, and I also get comfortable with the regular price items in the stores to know which store has the lower price point to determine where I'll purchase those items on future visits.
7. Talk to the supermarket employees
Different grocery chains usually have certain days of the week and times of day when meat and other items are marked down because of set delivery days for those items. Don't be afraid to chat up your butcher to ask when they usually price cut their meat.
If you know that meat is generally marked down at the beginning of the 3:00 pm shift on Wednesdays, you may want to consider making Wednesday your grocery shopping day, or you may work stopping by on your way home from work or during after school activities to grab half-price meals for the week or to fill up your freezer.
Shaina is a busy mother of four. In addition to working full time from home as a transcriptionist, she finds time to prepare meals for her family and talk about it at Food for My Family.