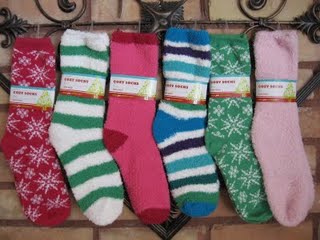 Here's the latest on this week's Old Navy One Day Wonder — all U.S. and Canadian stores will be offering $1 Cozy Socks (limit 5) this Saturday, 12/19! I don't have a source link directly on Old Navy, but I did verify this with them via my M80 Newsroom contact. (Thanks, Fabulessly Frugal!)
We had some ultra-helpful women that shared tips for buying ahead of time and getting a price adjustment done on the $5 fleece jackets post last week:
You have 14 days from the date of purchase to have a one-time price adjustment made.
Yes, you can absolutely buy these items ahead of time and have them price adjusted on the day of the sale.
Company policy prohibits the use of coupons when doing a price adjustment, so if you have a coupon, use it on your initial purchase.
There is a new 30% off any single Old Navy Item coupon available that is good through 12/19. Yes, it looks a little odd, but I've verified its validity with Old Navy as well. (Thanks, MoJo Savings!)
Don't forget to check out the coupons here and here for additional savings!