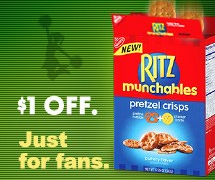 Become a fan of Ritz Crackers on Facebook and you'll be able to print a $1/1 Ritz Munchables Crackers coupon.
New products like this are usually introduced during a big sale to encourage consumers to buy, so we should be able to find a great price on these with this coupon!
Thanks, Smart Couponing!
P.S. Don't forget to become a fan of Deal Seeking Mom while you're there.