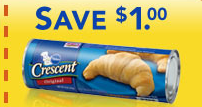 There are not one but two new $1 off Pillsbury Crescent Rolls printable coupons available now. You can find the small 5-count packages for right around $1 at most stores, so that means you can score four FREE packages (print each coupon twice)!
There's also a $1/1 Pillsbury Toaster Strudels printable (IE) or printable (FF) available. These are priced around $2 at many stores, so that's just $1 after coupon!
Thanks, $30 Weekly Grocery Challenge!