Join me every week for Win-It Wednesday, with 24-hour giveaways just for you!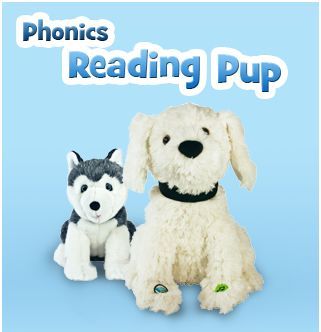 Leap Frog products have always been a part of our family, beginning with our first copy of The Letter Factory that we watched over and over with our first son eight years ago. I say first copy because it became so well worn that we actually had to purchase a new copy to replace it! So when I heard about the new SmartyAnts curriculum that's been developed by the founders of Leap Frog, I was very interested in giving it a try.
The SmartyAnts system consists of an interactive website and a companion SmartyAnts Phonics Reading Pup that reinforces the lessons taught on the website in a fun and engaging way minus the computer, allowing children to practice the reading skills they're currently working on any time, any place.
We received the white SmartyAnts Phonics Reading Pup to give the system a try, and my four-year-old daughter immediately fell in love with him. He's very fluffy and cute and surprisingly cuddly and soft for something that has mechanical parts housed inside. He comes ready for fun, preloaded with 10 songs designed to help teach your child the alphabet, letter sounds, phonics, word building, and rhyming.
I decided to let my daughter just get to know the Reading Pup for several days before introducing the online aspect, and he quickly became a constant companion. But when I showed her the SmartyAnts website and how it complements the dog, that was when the real fun began. I'm kind of embarrassed to admit it, but the site showed me just how much I was underestimating what my daughter was capable of. I was under the impression that she was still working on her lower case letters and sounds, but she breezed through those right into the four-letter words level!
The SmartyAnts website is very cute and really draws your child in with activities that seem like play on the surface but are really teaching them valuable skills all the while. My daughter just devoured all of this and asks to play frequently. And the best part is that you can download new files to the Reading Pup that reinforce these skills during free time.
The SmartyAnts Phonics Reading Pup retails for just $29.99, and I fully expect him to be one of the hottest toys this holiday season. Included in the box is one SmartyAnts Phonics Reading Pup (choose husky or white pup), USB cable, parent guide, and one-month membership to SmartyAnts Web site.
One lucky Deal Seeking Mom reader will win a Phonics Reading Pup with a 1-year subscription to SmartyAnts.com!
If you are reading this in your email or feed reader, please CLICK HERE to visit the original blog post to enter. Email entries will not be counted.
Want to win a one year subscription to Smarty Ants, as well as a Phonics Reading Pup? Just leave me a comment here, before 9pm on November 22nd, telling me about the fun ways you and your little ones have discovered learning how to read.
Prize:
(1) SmartyAnts.com Phonics Reading Pup and 1-year Subscription
This giveaway ends at 9:00 p.m. EDT on Monday, 11/22 and is open to all U.S. residents 18 years or older. I'll use Comment Contest to select the winning comment. Winner will be notified by email and listed on my Giveaway Winners page. Winners must respond within 48 hours of notification to claim their prize. Good luck!
While you're in a contest entering mood, don't forget to check out the Giveaway Gathering for a variety of contests being hosted on Deal Seeking Mom readers' blogs!
Disclosure: I received a Phonics Reading Pup and a one-year subscription to SmartyAnts.com to review for this post.