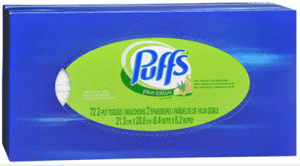 I noticed today that Walmart carries the smaller 72 ct. boxes of Puffs with Lotion for just $1 each.
There was a recent Vocalpoint Mailer that contained a Free Sample of Puffs along with a $1/1 Puffs with Lotion coupon and several $0.50/1 Puffs with Lotion coupons. Use the $1/1 coupon to get a box for FREE!
Puffs with Lotion (72 ct.), $1
$1/1 Puffs Plus Lotion Single (Vocalpoint)
$0.50/1 Puffs Plus Lotion Single (Vocalpoint)
As low as FREE after coupon!
Also, if you haven't signed up for Vocalpoint yet, it is a great opportunity to get samples and coupons for new and current products.
Heather from Passion for Savings is the Deal Seeking Mom Store Expert for Walmart. At Passion for Savings, she combines her love of great products, her passion for shopping and the art of saving money to educate her readers on the best products and best values available.