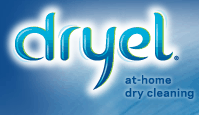 If you have been wanting to try out Dryel for your Dry Clean Clothes, be sure to check out this new Dryel mail-in rebate that's available. You need to make your purchase at Walmart, but you will get a full refund after the rebate so it's a great risk-free way to give it a try. Purchase the Dryel Kit and/or Refill for a refund of one or both!
Here's what you need for the rebate:
UPC from Dryel Kit/Refill box
Original Walmart cash register receipt with purchase price circled
Mail your Rebate to:
Free Dryel Kit/Refill Rebate Offer
P.O. Box 2059
Rock Island, IL 61204-2059
Thanks, One Momma Saving Money!
Have you tried these yet? What did you think?
Heather from Passion for Savings is the Deal Seeking Mom Store Expert for Walmart. At Passion for Savings, she combines her love of great products, her passion for shopping and the art of saving money to educate her readers on the best products and best values available.