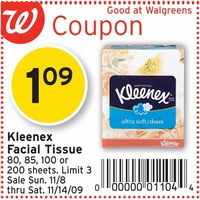 Need to stock up on Kleenex? Then head to Walgreens this week.
Kleenex Facial Tissue, $1.09 (w/ in-ad coupon)
$0.50/3 Kleenex Facial Tissue printable
$0.50/3 Kleenex Facial Tissue, exp. 11-30-09 (SS 10/4/09)
$0.50/3 Kleenex Facial Tissue, exp. 12-27-09 (SS 11/1/09)
$1/1 Kleenex Walgreens Coupon (November Healthy Savings Booklet)
Better than FREE after coupons!
Note that you'll need to add a filler item that costs at least $0.23 to absorb the overage or this deal won't work.
(Thanks, The Coupon High!)
Plus you can get Huggies Diapers for as low as $4.25 each. This scenario is based on having only one computer to print coupons from. You could do a little better if you can print four of the $2 off coupons!
Buy (4) Huggies Jumbo Pks., $8.99 = $35.96
Buy (1) Small Filler Item worth at least $0.04
Use $5/$25 Walgreens Coupon (Circular Wrap-Around or here)
Use (2) $2/1 Huggies printable
Use (2) $1.50/1 Huggies from here or here
$1/1 Huggies Walgreens Coupon (Children's Activity Book — deducts $4)
$0.75/1 Mail-In Rebate (Caregivers Marketplace)
$4.25 ea. after coupons and MIR!
If your store carries the Pure & Natural diapers, you could buy 5 packages and use 5 of the $3/1 Huggies Pure & Natural Diapers, exp. 11-22-09 (SS 10/25/09) coupons for the same final price!
(Thanks, Moms By Heart!)