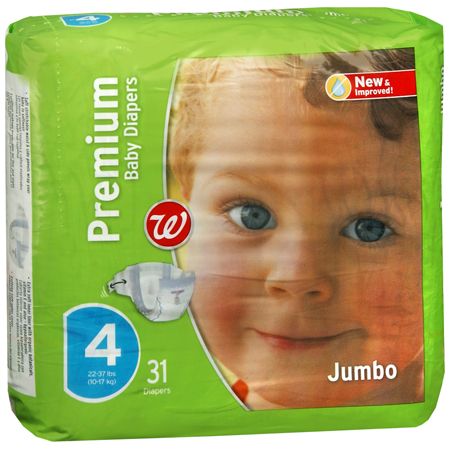 Walgreens brand diapers are on sale this week B1G1, and they are really cheap if you combine them with the $2 coupon found in the Infant Care Booklet.  The wipes are also on sale B1G1 and you should look for $2 peelies on packages of the wipes.
If you cannot find the Infant Care Booklet in your store, ask the cashier to key in the code 2844 as this is the Walgreens code for this coupon, and it should work just fine.  You do not need to have the physical coupon if you have the number.
Apparently the diaper prices are regional as well, so you may see them anywhere from $6.99 to $9.99 in your store.  Wipes are priced from $2.49 to $3.29.  The prices here are based on Walgreens.com, but they may be cheaper in the stores.
B1G1 W Baby Care
–Jumbo Pack Diapers (23-50 pk.)
$2/1 W Brand Diapers Jumbo Pack (Infant Care Booklet)
–Wipes (64-78 pk.)
–Sleep Pants (12-15 pk.)
–Jumbo Pack Training Pants (19-26 pk.)

Suggested Scenario

Buy (2) Walgreens Jumbo Pack Diapers (23-50 pk.), 2/$9.99
Buy (2) Walgreens Baby Wipes, 2/$3.29
Use $2/1 W Brand Diapers Jumbo Pack (Infant Care Booklet)
Use (2) Save $2 on W Brand Diapers wyb Wipes Peelies (found on pkgs. of the Wipes)
$5.28 for 2 packages of diapers and 2 packages of wipes!

If you have an AARP card you can also get a $3 RRs when you spend $10 on Walgreens brand products, which would bring the price down to $2.28.
Remember, if your store is out of stock on these, make sure to ask for a rain check.  The diaper coupons don't expire until 12/31/11 so you have plenty of time to use them.
Stacy from Saving in Akron is the Deal Seeking Mom Store Expert for Walgreens. At Saving in Akron, she teaches her readers how to save more so they can live better.