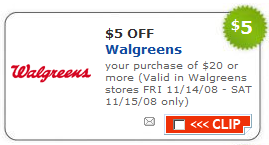 Only time will tell today as to whether or not we'll see a new Walgreens coupon in our inboxes.  However, I'm here to tell you that you don't have to wait!
Walgreens released a new $5/$20 coupon on Coupons.com that's good tomorrow, Friday November 14th, and Saturday, November 15th.
I'll be back with my scenarios shortly, but in the meantime you can share your best Walgreens Scenarios! Just link up your blog post via the Mr. Linky below.

To keep it neat, I suggest that you list your blog name and then describe your scenario in parentheses, ex. Deal Seeking Mom (Less than $6 OOP!). The only requirement is that you link directly to your scenarios. Links directly to your homepage will be deleted.