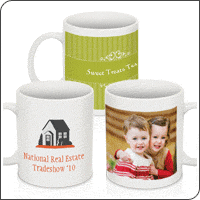 This was a super popular offer during the holiday season last year, so I'm sure that many of you will be thrilled to hear that there's a new custom photo mug offer available. Get a custom photo mug for just $1.99!
Vistaprint has even waived the normal photo uploading fee, so you'll pay only the $1.99 plus approximately $6 in shipping. $7.99 is an excellent price considering the mugs themselves normally start at $9.99 plus an additional $4.99 to upload a photo, with shipping on top of that.
Here's how to order your $1.99 photo mug:
Checkout making sure to opt out of any offers you're not interested in.
You'll only pay about $6 for shipping and handling when you select the "Slow" shipping. (In my experience it always comes much faster than stated.)
These sold out quickly last year, so don't wait around if you want to order onee!