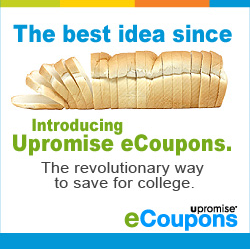 Have you started using Upromise ecoupons yet? These ecoupons actually deposit your savings directly into your children's college savings accounts, but unlike other ecoupons, they can be stacked with other manufacturer coupons, essentially earning you free money for college!
Here is a list of this month's coupons, which have all been entered into the Deal Seeking Mom Coupon Database for easy reference as well:

$2/1 4-Blade BIC Soleil System or Soleil Shimmer System Handle or Cartridge Refill
$3/2 BIC Comfort 3 Men's or Women's Pivot
$1/1 Blue Bunny Aspen Frozen Yogurt Granola Bars
$1/1 Blue Bunny Sedona Frozen Yogurt Granola Sandwiches
$0.50/1 Bounty Napkins
$1/1 Bounty Paper Towels
$1.25/1 Cabot Cheese Bars
$1/1 Charmin Fresh Mates
$1/1 Charmin MegaRoll
$1/1 Charmin Plus Lotion
$1.50/1 Chiquita Bites Multipack or Family Pack
$1/1 Chiquita Bites Singles
$1/1 Everyday Fun Size Nestle Chocolate Items
$0.55/1 Fisher Fusions Snack Mixes
$0.75/1 Glass Plus
$2/1 Gold Bond Anti-Itch Lotion
$1/1 Gold Bond Baby Powder
$1/1 Gold Bond Lotion
$1/1 Gold Bond Medicated Powder
$2/1 Gold Bond Pain Relieving Foot Cream
$1/1 Gold Bond Ultimate Powder
$2/1 Gold Bond Ultimate Soothin Lotion
$1.50/1 Huggies or Huggies Supreme Diapers
$1/2 Instant Krazy Glue
$1.50/1 K-Cup Pack OR Bagged Coffee
$0.50/1 King Arthur Flour Unbleached Cake Flour
$1/1 Krunchers! Kettle Style Potato Chips
$1/1 Krusteaz Waffles, Pancakes or French Toast with CoroWise
$0.75/1 Lime-A-Way
$0.45/1 Little Debbie 100 Calorie Cakes
$0.75/1 Little Debbie Double Chocolate Chip Muffins
$0.50/1 New York Brand Frozen Product
$0.75/1 No Yolks Egg White Pasta
$1/2 Ronzoni Healthy Harvest
$5/2 Similac Infant Formula
$0.50/1 Snyder's of Hanover Sourdough Hard Pretzels
$0.50/1 Spray 'n Wash
$0.50/1 Spray 'n Wash Bright & White
$0.55/1 Sun Belt Hearty Grain Cookies
$0.50/1 Wacky Mac & Cheese Dinner
$0.50/1 Wacky Mac Multi-Shaped and Multi-Colored Pasta
$1/1 Weight Watchers Frozen Novelty
$1/1 Weight Watchers Ice Cream Multipacks
$1/2 Wonka Laffy Taffy or Wonka Nerds Grape/Strawberry
To load these coupons on your store bonus card (here's a list of participating stores):

1. Sign up for a Upromise.
2. Click on eCoupons in the left side bar.
3. Select the coupons you're interested in using (or simply add all of them in case you find a great deal on a product you wouldn't normally buy!).
4. Activate the coupons on your bonus card.
5. Begin saving!
Do you use Upromise eCoupons?