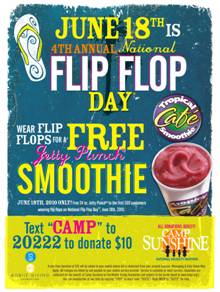 Tomorrow, Friday 6/18, is National Flip-Flop Day! Now that's my kind of day, LOL.
To celebrate, Tropical Smoothie Cafe is offering a FREE 24-oz. Jetty Punch Smoothie to the first 500 customers at each store wearing flip-flops.
While you're there, please consider purchasing a pair of paper flip-flops to benefit Camp Sunshine, a facility that offers recreational, medical and counseling services at no cost to children with terminal illnesses and their families. Additionally, you can text CAMP to 20222 to make a $10 donation.
Check out the Deal Seeking Mom calendar for reminders of these special events and more!