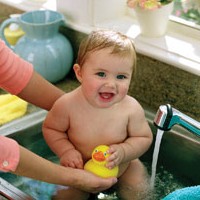 Treats for Baby Tuesday is brought to you by Marybeth Hamilton, mom to two toddlers born 12 months apart, a wife, a number-cruncher and a bargain shopper! Marybeth blogs about baby, child and maternity deals 7 days a week at Baby Goodbuys.
The best baby deals this week:
Sign up for the Publix baby club to get great coupons in the mail, including some for FREE full-size products!
Join the 7th Gen Nation rewards program by Seventh Generation and get coupons and offers for FREE products!
Diaper deals this week:
CVS

All jumbo packs of Huggies are on sale for $8.99. Buy one and get a $1 ExtraCare Buck at checkout. You can do this deal 5 times!
Spend $25 on select baby products and you'll receive $10 in ECB at checkout. Here's what's included:

Huggies Wipes Mega Packs,  $6
Pampers Diapers Big Packs,  $20
Select Good Start, Similac & Enfamil Formula,  $22
Johnson's, Aveeno & Desitin Products,  $5.50
Gerber baby food products,  2/$5
CVS-brand Soft Cloths Baby Wipes,  2/$5
All CVS Supreme Diapers and Trainers, B1G1 50% off
Rite Aid

Mega packs of Tugaboos diapers and overnights are $9.99. Submit your RA Single Check Rebate and get $3 back after your purchase!
Tugaboos baby formula is on sale for $16.99.
Tugaboos or Rite Aid brand baby wipes tubs are on sale for $2.50 each.
Get a FREE Fuji one-time use camera when you buy the following baby products that are already on sale:

Huggies and Pampers Wipes, B1G1 50% off
Little Swimmers, B1G1 50% off (use your Little Swimmers printable coupon and save $1!)
Pampers Diapers Big Packs, $19.98
Select Johnson's and Desitin Products, B1G1 50% off
Select Gerber Food, Snacks, and Juice or Nursery Water, B3G1
Walgreens

Huggies Diapers Jumbo Packs, $8.99
Huggies Wipes Value Packs, $5.99
Walgreen's Premium Diapers Value Packs, $16.99
Get $2 RRs wyb Similac Infant Formula for $22.99
Target

Get a $5 Target GC wyb 2 Huggies Big Packs at $19.99 ea.
Kmart

Huggies and Pampers Jumbo Packs of Diapers or Trainers, $8.99
Little Swimmers, $8.99
Huggies and Pampers Wipes Value Packs, $8.99
Save $10 OYNO wyb $35 in select Procter & Gamble Products (including Pampers)
See the previous Treats for Baby Tuesdays for more offers that are still available!