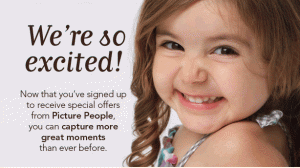 Treats for Baby Tuesday is brought to you by Marybeth Hamilton, mom to two toddlers born 12 months apart, a wife, a number-cruncher and a bargain shopper! Marybeth blogs about baby, child and maternity deals 7 days a week at Baby Goodbuys.
The best baby deals this week:
Print out a Macy's printable coupon and use it in stores to save an extra 15% on select sale and clearance items for kids, men and women.
Diaper deals this week:
CVS

Jumbo packs of Huggies Diapers are $9.49 ea. Spend $30 on these and other items in the weekly flyer and you'll receive a FREE 18 pk. of Cottonelle Toilet Paper.
CVS-brand Soft Cloths Baby Wipes are B2G1 FREE.
Rite Aid

Big packs of Huggies Diapers are $19.99 ea.
Family packs of Luvs Diapers are $16.99 ea. B1G$2 in +UP Rewards at checkout.
Pampers Baby Wipes are B1G1 50% off.
Jumbo packs of Tugaboos Diapers are 2/$15. B2G$2 in +UP Rewards. You can also submit for a $3 Single Check Rebate to get your final price down to $10/2 jumbo packs of diapers!
Walgreens

Jumbo packs of Walgreens Premium Diapers, Training Pants or Overnights are $5.99 ea.
Super packs of Pampers Cruisers Diapers are $24.99 ea.
Select tubs of Similac Infant Formula are $24.99. B1G$2 in Register Rewards at checkout.
Tubs of Walgreens Baby Wipes are $1.99 ea.
Refill packs of Pampers Wipes are $5.99 ea.
Target

Economy packs of Pampers and Huggies are $37.99 ea. B2G1 $10 Target gift card FREE  at checkout!
See the previous Treats for Baby Tuesdays for more offers that are still available!