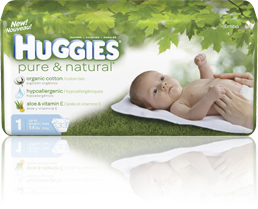 Treats for Baby Tuesday is brought to you by Marybeth Hamilton, mom to "two under two", a wife, a number-cruncher and a bargain shopper! Marybeth blogs about baby, child and maternity deals 7 days a week at Baby Goodbuys.
The best baby deals this week:
Babies 'R' Us just put out new printable coupons that are valid through 9/4. Find a gift card offer wyb Pampers or Huggies diapers, plus deals on kids' shoes, bedding, gear and more!
Save 50% on your Teething Bling order at SmartMomJewelry when you use coupon code S-SMJ at checkout. Hurry! Coupon expires on 8/31.
Diaper deals this week:
CVS

CVS-brand diapers and wipes are B1G1 50% off. I'm a big fan of generic CVS diapers. They've worked quite well for both my babies!
Jumbo packs of Pampers are $8.88 this week.
Double jumbo-packs of Pampers diapers are $18.99 after $3 in ECB. Note that the above deal for a single pack of Pampers with no ECBs is better than this one!
Rite Aid

Jumbo packs of Pampers are $8.99, and you'll get $2 in Up Rewards at checkout. Use with a manufacturer's coupon for a great deal!
Mega packs of Rite-Aid brand diapers (Tugaboos) are $10.49 after $1 in +Up Rewards at checkout. There's also a rebate for $1.50 back after purchase.
Walgreens

Big packs of Huggies are $19.99 and you'll get a $1 Register Reward at checkout.
Target

Jumbo packs of Huggies and Pampers are $8.99 each this week. Be sure to pair with your manufacturer's coupons for lower costs!
See the previous Treats for Baby Tuesdays for more offers that are still available!