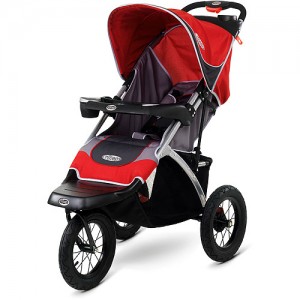 Treats for Baby Tuesday is brought to you by Marybeth Hamilton, mom to "two under two", a wife, a number-cruncher and a bargain shopper! Marybeth blogs about baby, child and maternity deals 7 days a week at Baby Goodbuys.
There's a new ongoing rebate deal at Rite Aid. Buy 5 Huggies jumbo packs between 4/25 and 7/24, submit this rebate and get coupon for a free jumbo pack. Stay tuned, I'm sure we'll see some good deals to maximize this offer in the next month or two!
Pampers Jumbos are also $8.99 this week at Target, and you'll also get the $5 Target Gift Card when you buy three!
Walgreens store-brand diapers are $4.99 per pack this week. A great price if you need diapers and don't have coupons!
MightyNest.com is a great site full of organic, natural and BPA-free products for baby. Use coupon code MIGHTYDEALS15 to save 15% on your order.
Need a single jogging stroller? Check out the In-Step Suburban Safari Jogging Stroller at Walmart.com. The red and gray model is priced at $99 (originally $137) with FREE shipping to your nearest store. 
Those interested in cloth diapers should take a look at this deal: The Green Nursery has currently discounted all of their Gro Baby products by 30%. Several items are out of stock, but I'm hoping they replenish their inventory while the sale is still going on! Shipping is FREE when you spend $75+.
See the previous Treats for Baby Tuesdays for more offers that are still available!