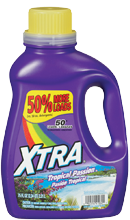 Here' a list of some of the top laundry product deals available this week to help you get the best deal on keeping up with your laundry! We'll start with Amazon because these would be extra great deals if you have a $5 Amazon Gift Card from Swagbucks to use!
-Amazon-
Sign up for Subscribe & Save and you can save 5% off the price of select laundry plus you'll enjoy FREE shipping. You have the option to continue to receive the product on a regular basis or cancel any additional orders by canceling your subscription. Amazon changed the Subscribe & Save to only 5% versus 15% so prices are higher now.
-CVS-
All Small & Mighty (28-32 loads), $3.99
Get $1 ECB wyb participating All Detergent (limit 4)
$1/1 All Laundry Detergent printable
$0.50/1 All Liquid, Powder or Mighty Pacs Laundry Detergent printable
$1/1 All Liquid, Powder or Mighty Pacs Laundry Detergent, exp. 12/23/12 (RP 11/11/12)
As low as $1.99 after coupon and ECBs!  ($0.06 to $0.07 per load)
Xtra Detergent (30 Loads), $1.99
$0.07 per load
-Rite Aid-
Arm & Hammer Detergent (45-50 oz.), 2/$7
Get $3 UP+ Rewards wyb 2 participating Arm & Hammer Detergents (limit 2)
$1/3 Arm & Hammer Laundry Product printable
$1.75 each wyb 4 after coupon and UP+ Rewards! ($0.04 per oz.)
-Target-
Gain Liquid Detergent (100 oz.), $9.99
$0.10 per ounce
Don't forget, you can use your RedCard and save an additional 5% off your purchases at Target.
-Walgreens-
Earn 3,000 Balance Reward Points wyb $25 in participating P&G products
Gain Laundry Detergent (48-64 Loads), $9.99
Downy Liquid (40 Loads) or Bounce Dryer Sheets (70-80 ct.) or Tide Stain Release (10 ct.), $3.99
$1/2 Tide, Tide to Go, Downy or Bounce, exp. 12/31/12 (P&G 11/25/12)
$0.40/1 Tide, Tide to Go, Downy or Bounce, exp. 12/31/12 (P&G 11/25/12)
Scenario:
(Buy 2) Gain Detergents, $19.98
(Buy 2) Tide Stain Release, $7.98
Get 3,000 Balance Reward Points wyb $25 in P&G products
$1/2 Tide, Tide to Go, Downy or Bounce, exp. 12/31/12 (P&G 11/25/12)
$23.96 wyb 4 ($5.99 each) after coupons and points! ($0.14 to $0.18 per load)

Xtra Laundry Detergent (30 Loads), $1.49
$0.05 per load
(Thanks, The Cent$ible Family!)