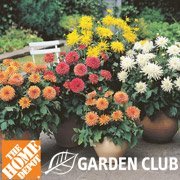 If you haven't signed up for The Home Depot Garden Club or other newsletters, now is a great time to do so. In my last newsletter, I received coupons for B1G1 houseplants and B1G1 Glad trash bags, a savings of over $30!
They're sure to have more great offers to entice customers in doing their spring planting.
Just select the newsletters you're interested in from the list. The Home Improver Club is also another one to consider.