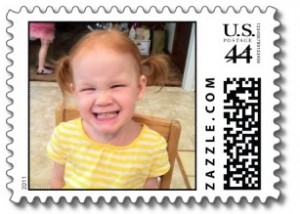 Here's a nice deal – perfect to use on your holiday cards!  Make your Custom Postage Stamps on Zazzle and get $8.80 off every sheet. This makes a sheet of 20 stamps cost $9.15.  Just a little more than a regular sheet of stamps, but you get your picture on it! How awesome would that be for Christmas cards or even party invitations  To get the deal use code ZPOSTAGESALE.
Here are a few ways to save even more:
Order 2 or more sheets and get a discount per sheet.
Sign up for Zazzle's FREE Shipping program trial (you can cancel the program right after you order or enjoy FREE shipping 30 days and then cancel).
Go through ShopAtHome and get 11% cash back!
With all of those options you can get stamps for $0.43¢ each!  (That's cheaper than the post office!)
Even without the cash back through ShopAtHome, you'll still get each stamp for $0.45 each, which is a great price for a customized stamp.