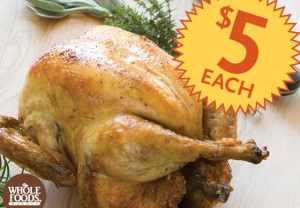 Make plans now to visit your local Whole Foods Market on Friday (8/22) to pick up a Whole Roasted Chicken for $5!
Roasted chicken is so versatile, and with its flavorful taste there's no surprise why it goes with so many different recipes. It makes the transition from lingering summer days to the hectic beginning of back-to-school that much easier.
These birds are humanely raised, coming from farms certified by the Global Animal Partnership's 5-Step Animal Welfare Rating standards.
These chickens are antibiotic free–keeping you free from harm of toxins or supplemental growth hormones. The seasonings used are all organic!