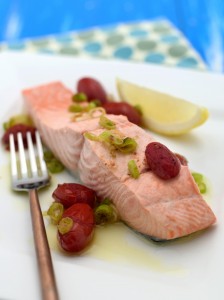 Make plans to pick up some Alaska Wild-Caught Salmon at your local Whole Foods Market for $8.99/lb. today!
What to know about this salmon:
It's the peak of wild salmon season! This Coho is fresh, never frozen, and rich in Omega-3s.
Coho is full-flavored, flaky, moist and tender, making it a versatile and delicious choice for the grill, summer salads or hearty salmon burgers.
The wild Alaska salmon Whole Foods Market selects are allowed to mature at their own pace by feeding on their natural diet in the icy cold waters of Alaska.
This wild Alaska Coho salmon comes from fisheries rated green by the Monterey Bay Aquarium or Blue Ocean Institute. That signals healthy populations (no overfishing) and a fishing method that's easy on the environment.
We have two dedicated port buyers, Keith Harris and Anthony Jordan, living in Alaska during the summer months who work directly with the fishermen on the docks to select the highest quality fish.
Wild salmon is a healthy choice for summer BBQs or light family meals. It's easy to grill, broil, roast or poach.
Fine print: U.S. and Canada stores only. Price in Hawaii is $9.99. Price in Canada stores is $2.29 per 100g in British Columbia and $1.99 per 100g in Toronto/Ontario. Offer not available in the U.K. Availability may vary. No rain checks.