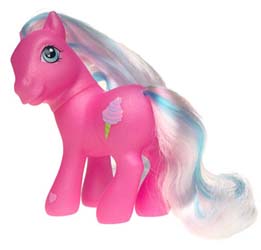 My Little Pony figures are B1G1 at Toys R Us tomorrow, Wednesday 3/31, only. I'm not sure what the Toys R Us policy is on combining a B1G1 sale with a B1G1 coupon, but there's a B1G1 My Little Pony printable coupon available which could make for possible FREE toys!
My Little Pony Figures, B1G1 (3/31 only)
B1G1 My Little Pony printable
B1G1 Select My Little Pony Pony Items, exp. 4-15 (SS 3/21/10 #2)
Possible 2 FREE or at the least B1G2 FREE after coupon!
I'm sure you'll have to get there early to snag this deal.
Thanks, Nickles-N-Dimes!