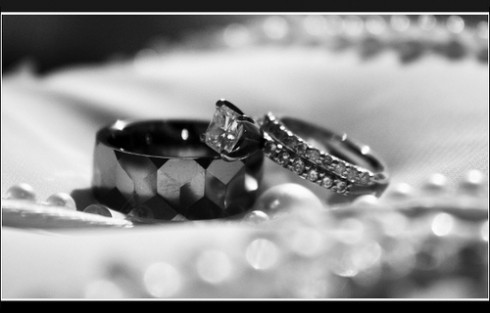 Photo by Leland Francisco
The following is a guest post from Maggie at Family Frugal Fun:
Fall is quickly gaining popularity as the season for weddings, and most people don't know this, but more people get engaged in December than at any other time during the year.
If planning a wedding is in your future, here are a few things you can do to save money, but before you do anything you'll have to keep your cool, take a deep breath, and take a good look at your budget. Even if the economy hasn't hit your family hard, EVERY family has a budget, no matter how big or small!

Here are some tips to maximize your savings:

1) Look for a venue that will allow you to bring in your own alcohol. Venues that offer a full service bar also offer a full-service mark up. Alcohol is known to be a great money maker in the reception industry. In the hundreds of weddings I helped to plan, every wedding, with the exception of only 2, would have been better off running a tab instead of paying for the more costly "open bar" option.
With that being said, if you already have a deposit on a full-service venue, remember that you can bargain on your beverage service too… If your crowd is most likely to drink beer and wine and you really are dead set on the open bar option, then ask to run a tab on hard alcohol drinks, mixers, and on the rocks beverages that less people are likely to consume. If you want table wine service during a meal then purchase wine by the bottle in advance – not by the glass.
2) When shopping for a cake, don't rule out your local grocery store. Several local chains in almost every town make wedding cakes for about half the price of exclusive "caking specialty" businesses. Many of the mom and pop grocery stores make them from scratch. Do your research in person and speak with the bakery manager. If you are set on a more pricy cake from a specialty shop think about a small 2 layer cake and have extra sheet cakes in the back (away from sight of your guests). The cake will instantly multiply enough to feed all of your guests after the cake cutting ceremony by the kitchen or catering staff with the help of your sheet cakes.
3) Bargain on the venue fee. If you are planning a wedding less than 8 months out and you have found a suitable venue with a Saturday night open then it's time to bargain. Most wedding receptions book 1 year (or more) in advance so if the date is open on shorter notice, put thatmoney in your pocket. Another way to save on a venue fee is by opting for a Friday night, Saturday day, or Sunday event. The current trend is for a Saturday night wedding so it will be easier to find a better value at any other time.
4) A DJ is usually less expensive than a live band. You may not have the ambience of a bass guitar right in front of you but a lively DJ can add just as much fun to the party. If you are a lover of live music then consider hiring a few musicians just during dinner or the cocktail hour to keep expenses down. Look for musicians accepting side work at places like your local universities (Peabody Conservatory), orchestras or military bands like the Naval Academy or Army band.
5) Hire your own caterer. This will ensure greater control over your food options, thus meaning greater control over the bottom line budget. Ask for half price meals for any children in attendance and ask if your caterer would be willing to comp meals for hired help at the reception like your DJ and photographer. Most caterers are happy to feed them either for free or at cost because they are a great source of word of mouth advertising in the wedding industry.
6) Decorate with in-season flowers. If you've found the perfect florist and need to bring the total cost down you'll want to follow these tips. The further your flowers need to travel to get to you, the higher the cost is going to be. Stick to 1 kind of flower. If your florist has to purchase several different kinds of flowers to make your bouquet, then the total cost in going to increase. Consider flowers petals sprinkled on the guest tables instead of expensive floral centerpieces.
Maggie Miller is a freelance writer and family blogger for www.familyfrugalfun.com. She calls herself the "discount diva" and specializes in all things FREE, fun and cheap in the Mid-Atlantic region. A former wedding planner turned stay-at-home mother after the birth of her 3rd son, she teaches seminars on "Extreme Couponing" and offers a "how to" video channel on You Tube to help other families with everyday expenses and wedding planning tips.