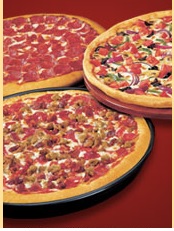 Need a quick fix for dinner? Right now you can pick up a any medium Pizza Hut Pizza for $6 when you use coupon code TEOMED3T6 during checkout.   TYou can also score two large Lover's Line Pizzas for $8.75 each with coupon code EE02LOVERS1750.  Here are some more current coupon codes:
Any Pizza Hut Piiza (any pizza, any size, any toppings) for $9 with coupon code ONLG9.
Get an order of breadsticks for $1 with coupon code EEOADDSTICKS1
Order 2 medium 3-topping pizzas for $5.99 each with coupon code EEO2MD3T599
Get any large 3-topping pizza for $7.99 with coupon code EEOLG3TOP799.
Add more and call it dinner with promo code CX – you'll get a large pizza, one side order and a 2-liter soda for $15.
Thanks, Freebie Finding Mom!