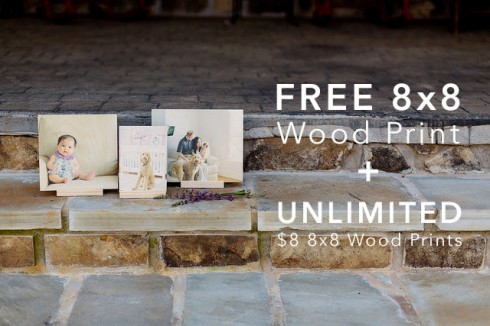 Hurry and score your FREE 8×8 Wood Print from PhotoBarn (a $25 value!) today.  Wood Prints are thin, 1/8″ wooden panels that are meant to be displayed on a desk stand or framed.  Larger Wood Prints do not come ready to hang on the wall.  Display smaller wood prints (5×7 and 8×8) using a wooden desk stand that can be purchased in the PhotoBarn intuitive design center.  PLUS you can upgrade your wood print with a desk stand for only $4 too!
Here's how to get your FREE 8×8 Wood Print:
Visit PhotoBarn
Click "Create" to start your custom photo print.
Upload your picture.
Proceed to checkout and use promo code FREE8x8WP during checkout.
Shipping and taxes will be added to your order.
Enjoy your FREE Wood Print!
Don't miss out on some other great offers too: